You can use this action to open a File or Program.
Open Program or Files.webp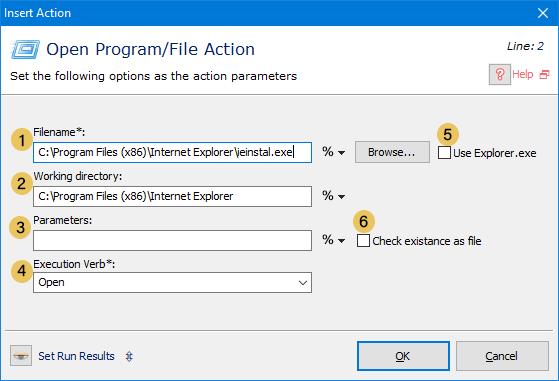 Description of the parameters:

File Name: The name and the path of the file or program that you want to open. Instead of typing the path, you can use the Browse button to find the file. Or you can use the % sign to insert Text variables or Special Folders in this parameter.

Use Explore.exe: If this option is enabled, you can no longer insert the name and path of the file in the FileName field and while the Macro is running, the Windows Explorer will open. Using this option and putting the name of the program that needs to open, I like opening the My Computer and double clicking on the program to open it or in other words, this option helps in simulating the human behavior.

Working Directory: The path of the folder that the target application is going to use (to open or save some files). Using the % sign you can insert Text variables or Special Folders.

Parameters: The parameters that the application starts with. For example, if you want to open the Notepad application and open simultaneously open a text file with its, you can put the Name & Path of that text file here. Using the % sign you can insert Text variables or Special Folders.

Check Existance as File: By selecting this option, the macro will check and if the file is not there, an error will be shown.

Execution Verb: Using this parameter, you can change the execution method of the file or program. If you right click on a file or program, you will see some of these options. The parameter can be one of the following:
Open:

(RunAs (Run as Administrator

Edit

Print

Preview