There are two ways to advertise in Telegram:
1
Sending Ads to Groups or Channels with a lot of members (Group or Channel Advertisement)
2
Sending Ads to Private Chats
We will now describe these advertisement methods and their costs.
First method:
Sending Ads to Groups or Channels
You can contact the Administrators of a channel or group to negotiate. The administrator's contact information is usually placed in the Group or Channel's Bio section.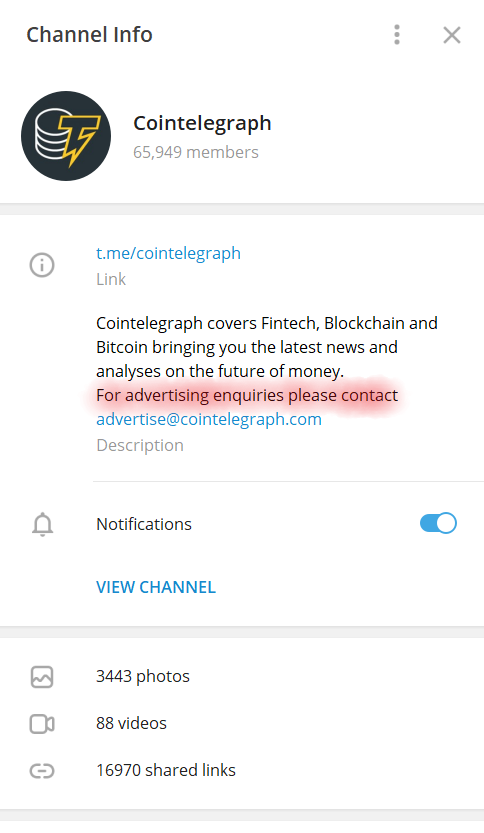 What is the Price of Channel Advertisement?
Most of the channel has some specific tariffs that, among other aspects, include the duration of the advertisement. For example, they will keep your ad for 24 hours, and for 3 hours, your ad will be the last post of the channel. In other words, when they have placed your ad, there will be no other posts for the specified period, so that your ad will be seen. And then, after 24 hours, they will completely remove your ad.
The price of this kind of advertisement is not fixed, and it depends on the channel itself and on the administrators.
How can we find appropriate Channels or Groups?
You can use Google to search for popular Telegram Channels. Or you can use Telegram to search for keywords that relate to your line of work.
In summary…
To advertise in channels, first, you need to find the channel that is appropriate for you. You need to contact the channel's administrators and negotiate a deal, and finally, you need to pay the price and send your ad to be posted on the channel.
Second Method:
Sending the ads to private chats
It's pretty obvious that sending ads to private chats is much more effective than channel advertisements. If a private message is sent to us, even if it has been sent from an unfamiliar source, we are going to open and read it. The posts of the channels are not as important to us, and we do ignore some of them from time to time.
But if Sending Bulk Private Messages is the best option for Telegram advertisements, why doesn't everyone use it and why we don't see that much of these ads in our private chats?
There are two reasons. First, Telegram will not let you send messages to more than 50 people each day. You might say that we can use multiple lines (Telegram accounts) and send more messages, and you will be right. But the second and more important reason that prevents people from sending bulk telegram messages is Reporting them as spam. If you send a message to a person you don't know, they will have a Spam option available to them. If they use this option to report your account, Telegram will become sensitive to the account that has sent the message, and to the message itself. If you continue to send the messages and the accounts you send them to, continue to report you, Telegram will prevent that account (line) to send messages to anonymous accounts for three days! If you purchase a new line and continue to send the same message and people report you, this time, Telegram will block the message itself. Therefore, you use a single type of message (like SMS advertisement) to a Telegram advertisement system, and except it to send the message to thousands of people without any problem. Because as we've said, the message might get reported after the first 300 or 400 sendings, and if that happens, blocking the message by Telegram will stop the advertisement process.
If it's impossible to send messages to anonymous accounts, why do I get some advertisements from weird anonymous numbers?
We did say that Telegram advertisement is not like an SMS advertisement, and you can't send a single message to thousands of people; however, it doesn't mean that it is impossible to advertise this way. There are rules and guidelines for Telegram advertisements, and if you follow them, you can spend less amount of money and achieve much better results compared to channel advertisements.
We think that in order to send Telegram ads to private messages, you need to know the answer to the following questions:
How can we find people who are the potential buyers and who are interested in our products or services? If we do this, the chance of them reporting us will decrease, and we will get better results
How do we lower the cost of sending messages (using Virtual SIMs), and how to hide the virtual number from recipients?
What tool do we use to automate the process of sending messages and changing the lines?
What should our profile look like? And how should we compose our messages to lower the risk of getting reported and have the best impression and effect on the recipients?
If you have the answer to these questions, Telegram will become one of your most effective advertisement methods.
If you think that preparing the tools and information that are necessary for Telegram advertisements are difficult or impossible, we should tell you that we have made a robot that addresses all of the needs and requirements that have been specified, and this Robot has been tested and successfully used by our customers and us. We update this Robot regularly and use our customers' suggestions always to improve it. If you are considering Telegram Advertisements, take a look at our Robot.
In summary …
In order to advertise in private chats, you need to have appropriate tools, and you also need to be aware of the limitations and the ways to overcome them. Your advertisement needs to target a specific group of people, and you need to work on the messages to achieve the best results.
If you follow these guidelines, you will have a much more effective result compared to Telegram Channel advertisements.
Again, If you are considering Telegram Advertisements, we recommend you take a look at our Robot.