Purchase the Serial Number of the Editor application
The Virtual User Software is our main product, and it's description can be found here: Virtual User Software
Out of the three softwares of the Virtual User Package, two of them require Serial Numbers. One is the Player application (vUser Player) that runs the Robots, and the other is the Editor application (vUser Editor) that can be used to edit the Robots. Here, you can purchase the Serial Number of the application. Before making the purchase, please refer to this page , and read the following notes.
Important notes before the purchase
The Serial Number of the Player application that is included in the package, can only be used on one system, and is by no means transferable to another system. Also, this license can not be disabled on one system and then used on another. But, if you intsall a new version of Windows OS on the same system, the Serial Number will continue to work.
You can use your credit card to make the purchase

purchase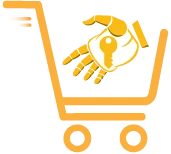 Discount 40% 139
Price: 83 €

Important notes after the purchase
The purchase is done instantly

, and immediately after the purchase we will send you all the details. Your

email

will be set as your

username

and your

phone number

will be set as your

password

. You can use these credentials to Login to the website and use the free updates and access all of your purchased items.