The items you buy from the v-User website fall into one of these 2 categories:
v-User products (such as Bot Maker software and robotic packages)
v-User services (such as golden support, silver support and accounts for some platforms)
The return of the money paid for the v-User products and services includes the rules that will be explained individually in detail below:
Refund Policy for v-User Products
In general, v-User products fall into one of these 2 categories:
V-User Bot Maker software
V-User robotic packages
Each of these 2 categories has its own principles and rules for refund, which will be described in detail below.
Refund Policy for v-User Bot Maker Software
The v-User Bot Maker software has a demo version with two types of limitations:
The number of commands you can create/edit/execute in the demo version is limited to 20 commands.
Any type of jump from one command to another command is disabled.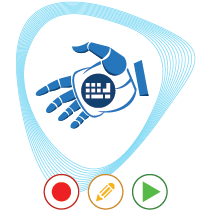 Despite these limitations, you can test all the actions you want through the demo version by building actions in small pieces and making sure that the software works as you expect, and ensure that the software works before you buy. In addition, you should be careful that the v-User Bot Maker software has a lifetime offline license; That means once you enable it on your system we won't be able to disable it.
Due to the mentioned reasons, the refund is irrelevant. However, after purchasing the V-User Bot Maker software, if you encounter a defect that was not found in your test on the demo version, we will refund your payment.
Refund Policy for v-User Robotic Packages
Ready-made robotic packages
As you know, our ready-made bots perform their robotic activity on other platforms (for example, WhatsApp Bulk Message Sender Bot works on WhatsApp and our Instagram Follower Booster Bot or Bulk DM Sender Bot works on Instagram). As each of these platforms has its own rules and principles, you should not expect our bots (which act as simulators of human activities) to violate or avoid the rules of these platforms.
For example, the Telegram platform allows each account to send messages to up to 50 new or anonymous people per day, no more! In this situation, you cannot expect our Telegram bot to send messages more than the allowed number specified in the Telegram rules using only one account. Such a thing is not possible neither for bots nor even for human users.
Our money back guarantee refers to the correct functioning of our software based on the rules and principles of the relevant platforms and the obligations we have explained on our website regarding the functioning of the software.
For example, you can expect the Telegram Bot to receive different accounts from you and send messages to different people using each account to the mobile numbers or usernames you specify, and to automatically continue messaging using the next account after completing sending messages with one account.
We put a money back guarantee on our products to show that we are confident in the performance of our products and to give you the confidence that you are buying a working and functional software.
Refund Policy for v-User Services
Refund rules for services purchased from the v-User website depend on the type of service. In general, our services fall into 3 categories:
The account of different platforms such as Instagram, Telegram, Google, etc.
Golden support service
Silver Support Services
In the following, we are going to describe the refund policy for each of these 3 categories separately.
Refund Policy for Account Purchases
After completing the account purchase process, we will open a ticket for your purchase and in this ticket, we will send you a PDF file that describes the account delivery rules in more detail. If you do not agree with the items mentioned in the PDF, your order will be automatically canceled within 24 hours and the entire purchase amount will be returned to your bank account.
But if you agree to the conditions mentioned in the PDF file, the accounts will be sent to you on the due date and the refund will be made according to the rules mentioned in the same PDF file.
Refund Policy for Golden Support
After you complete the process of purchasing golden support, a ticket will be opened for your order and our experts will talk to you about the conditions in detail in order for both parties to finally reach an agreement. The start the work after reaching the agreement and if no agreement is reached, your order will be canceled and the entire amount paid will be returned to your bank account.
Note that after starting the work, it is not possible to get a full refund, but you can request a refund before reaching the third week of golden support (meaning before the 15th day), if you are not satisfied with the work process and the result. Keep in mind that only half of the amount received for golden support will be returned to you, which does not include the items such as proxy, server, account, etc.
Refund Policy for Silver Support
Silver support will only include a refund if you request a return within 3 days (after purchase) and more importantly, if you have not received the remote connection once (which comes with this support).