SEO Robot
According to the latest search engine algorithms
what can be done
with Virtual user seo robot
Improve your site's Alexa Rank
By visiting and scrolling the site using different IPs
With the possibility of visiting other pages
Simulate an organic Google Search
Searches for your site like a human
With the ability to specify keywords
View all the features of SEO Robot
Fully Automated
Google/Alexa Policies and Algorithms
This Robot simulates human actions. But there are other information that Google and Alexa track. Information like IPs, Keywords, and the time between visits, which all are out of our control and you need to manage them yourself. However, we do provide some tips & tricks for you regarding these information.
Permanent
One year free updates / Corporate support
Includes 1 permanent serial number worth 29 €
Unlimited access to VIP tutorials on site academy
Just 80 €
Show purchase form
How to get the most out of this Robot?
If you would like to learn how to use this Robot and match the latest policies and algorithms of all search engines especially Google and Alexa, you can contact us via our Telegram ID.
SEO Robot

Demo
Before you purchase, you can test our SEO Robot and make sure it works on your system!

Video tutorial on how to install Video tutorial
Windows

(Any Version)

– Firefox

(Latest Version)

Note:

If you have more than one monitor, only one of them should be Enabled.

Note:

The Scale (Settings > Display > Scale and layout) of the monitor must be set to 100%.
Some of the feature of SEO Robot
1

Simulates human behavior
2

Visits the homepage and any other pages
3

Ability to automatically change proxies & IPs
4
Organic search simulation for Google, Bing, Yahoo and other world-famous search engines
5

Ability to set individual delay and scroll times for each page
6

Ability to click on buttons or elements of your site
7

Ability to set the number of hits for each execution
8

Ability to run on Virtual Servers (VPS) and other virtual machines like VmWare
To view the folders list and the capabilities of the robot, please click on the following button...
SEO Robot

Demo
Before you purchase, you can test our SEO Robot and make sure it works on your system!

Video tutorial on how to install Video tutorial
Windows

(Any Version)

– Firefox

(Latest Version)

Note:

If you have more than one monitor, only one of them should be Enabled.

Note:

The Scale (Settings > Display > Scale and layout) of the monitor must be set to 100%.
Contents of the SEO Robot Full Package
After purchasing the full version of SEO Robot, you will be able to download these files & folders
Description of selected folder
_ educational videos _
This folder contains a number of educational videos,

the first of which is very important

because

it explains how to use all the features of the robot.

it explains how to use all the features of the robot.
Other instructional videos are also intended for some special occasions, almost guessing their names can be used.
x Possible Errors x
In this folder

we have listed a number of common errors

that may occur to users when working with this robot, but

we have outlined a solution to these errors.

Call was rejected by callee error

is due to your Excel (or Office suite) not being active
SEO straightforward robot with Google search
This robot first searches your keyword

on Google

and finds your site from a bunch of suggested sites and then clicks on its link and visits it

to gain popularity.

Show Users To Google.
Alexa Ranka Robot Improvement Version One
Robot directly scrolls web pages built by web automation technology of virtual user software

This version is suitable for sites

that have high content and number of pages,

with this bot you can specify in the settings file, which pages to scroll through each time
In this version, your mouse and keyboard will not be affected either

But it's very unlikely that your site will be identified as a robot,

and should not be used on the site many times a day.
Robot Improvement Rank Alexa Edition Two
Robot directly scrolls web pages built by virtual desktop software automation technology

This version is perfect for when you want

to do human activity

on your site, such as browsing through روی
Do not use mouse or keyboard at runtime.
Run the Robot on a
Virtual Machine
& Minimize it
Advantage
You can use mouse and keyboard while the Robot runs.
Disadvantage
The system becomes slow

(since the Virtual Machine uses more CPU & RAM)
Using softwares like VirtualBox or VMWare you can install a Virtual Machine on your system and Install Windows on it. Then, you can run the SEO Robot on those Virtual Machines.
While the Robot is running on the Virtual Machine, it's not going to use your mouse & keyboard, and you can Minimize the Virtual Machine and run other tasks on the system. However, please note that this configuration requires a powerful system, that has enough CPU & RAM to run two operating systems simultaneously.
If you are going to use the SEO Package in a Virtual Machine..
Note that you need to back up your Virtual Machine, since if it gets deleted or becomes otherwise unavailable there is no way to retrieve the license of the package.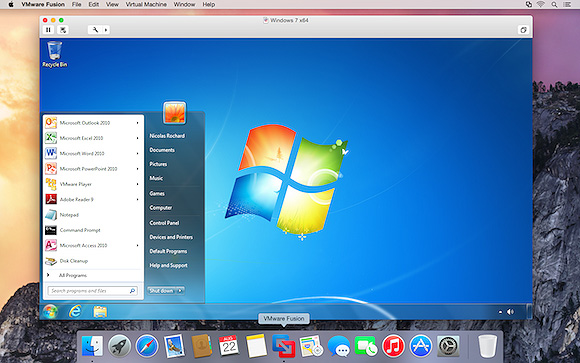 You can search for tutorials on Installing a Windows Virtual Machine, or search Google for "How to install Windows 7 on VirtualBox".
SEO Robot Support
If you need any help, we will be by your side at the initial setup of all the robots (until the end of the initial setup, the support is free). If you need additional help after the initial installation or you need to customize some parts of the settings of the Robots, extra charges will be applied (and this is based on how complicated and time-consuming the job is).
Will the virtual user software work correctly when Internet Browsers update?
The Robots which we've made using the vUser software are produced according to the current appearance and functions of the Browsers; And as long as the these appearances and functions do not change, the Robots will continue to work. However, if they do change in a future update and our settings stop working, within a few days after the update, new settings will become available. If Internet Browsers change a lot, separate update fees may apply.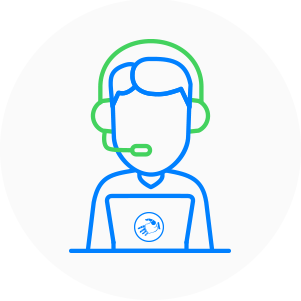 Frequently Asked Questions About the SEO Robot
How does the SEO Robot increase my site's rank?
Search engines visit (or crawl) millions of sites in each day to index their contents and then, when a user askes for a specific content, they will provide the appropriate sites. If the number of users who visit you site increases, and if your site's Alexa rank improves, crawlers will pay more attention to it increase the number of their visits to get the new contents. There is an intense competition among search engines (Google, Yahoo, Bing, etc.) and any search engine that introduces contents that are popular and up to date, will attract more users.
Will our site come to the first page of Google by using this SEO robot?
This Robot will not perform miracles. If a website is performing well, it has been implemented different SEO principles and guidelines. What this Robot does, covers a portion of this principles and guidelines.
If you want to reach the first page of Google, you need to consider three different aspects SEO: Technical, On Page, and Off page.
What if our site is penalized by Google?
If you follow the rules & guidelines of SEO Robot this will not happen. But if for any reason your site is penalized by Google or other search engines, only the page that you were working on will not be displayed in search results for a couple of days.
Can this program be used on a Virtual Server?
Yes, eventhough we recommend that you use the software on a personal computer, it can be run on all the versions of Windows OS that are installed on virtual servers. The only thing to note is that the VPS should support remote devices such as VNC or VMware Client.
Can I use the purchased license on multiple computers or servers?
Currently the application license are issued for a single user and can only be used on one computer (or server). Note that once the application is activated, the application's license cannot be overwritten or transferred to another computer.
The Security of your information is Guaranteed
No information is sent to us
For companies and organizations that care a lot about their information security, we guarantee that the virtual user software does not transfer any information through the internet because it works offline. We have provided this guarantee on a legally binding contract in company letterheads and signature, and we can send a copy of this contract if a company or organization requests it.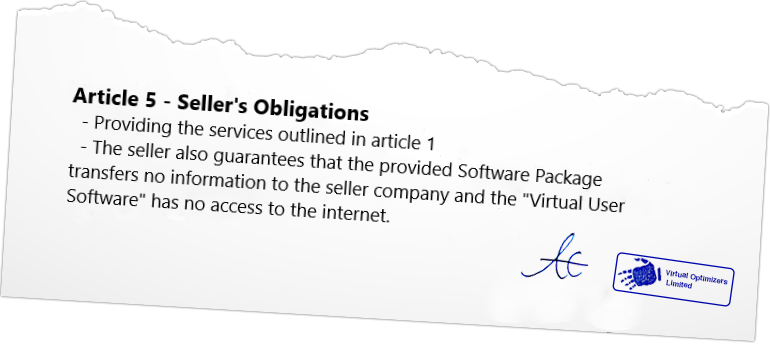 Our Credentials & Certificates
You can click on the links and check the validity of each of the certificates
Tips Before The Purchase
Click to see the tips before the purchase Tips before the purchase...
Important Tips Before The Purchase
The Robot you are going to purchase, works permanently, but it's "Free Updates" will only be available for 12 months.

A serial number will be delivered to you that can only be used on one system, and is not transferable to other systems. The license will continue to work after changing the Windows OS.

SEO robot can only be used on one domain This restriction does not include subdomains of the same domain

For this package, While the Robots of the Virtual User Software are working, you can not use the mouse and the keyboard of your system. The only way to do that is to pause the Robots.
SEO Robot

In order to configure the domain information needed to use this package, once you've made the purchase, contact our Telegram ID:
@vuser_support_seo
Tips after the purchase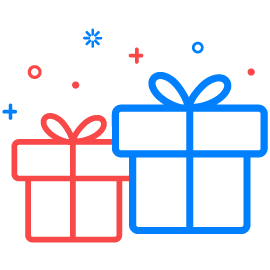 Special offers for the buyers of this product
A 29 € discount on other products
We have designed our packages in a way that having one serial number is enough to run all of them (on one computer), that is, after purchasing the Virtual User Instagram Robot that includes one serial number, you no longer need to buy a new serial number to use our other products (like Telegram Bulk Message Sender, Instagram, Website Data Extractor , or any other package), and in addition to that, your next purchases will have a discount of 29 €!
SEO Robot's Change Log
Version 2.7 (2020-03-14)
Bug Fixes
Making the Change Proxy Section compatible with the new version of Firefox
Version 2.6 (2020-01-30)
New Features
Added the "Keyword Position Checker" Macro, to find the Google Rank of your website for different keywords
Added the ability to look for your website in all the result pages (with the ability to specify the number of pages to check)
Added the ability to search multiple keywords with each proxy
Bug Fixes
Improving the performance of changing Firefox Proxies
Improving the performance of finding the Target Page between other pages
Making the Robot compatible with the new Firefox Update
Version 2.4 (2019-10-31)
New Features
Added the ability to search multiple Keywords
Added the ability to search for long phrases
Bug Fixes
Improving the performance of setting Firefox proxies
Version 2.0 (2019-07-16)
The first published Version of the Robot
We Provide SEO Services For Your Websites
We can optimize any site with any technology to get the highest scores and ratings from reputable sites around the world such as GTmetrix.
We can link any site with any technology to Google Webmaster, introduce the site map to Google Webmaster and fix all Google Webmaster errors and implement it's suggestions.
We can link any site with any technology to Google Analytics and Google Tag Manager and apply customizations to the structure of that site.
We can customize any site with any technology, so that it can display the types of Google Structure data you want.
We can optimize Google AdWords settings to fit your site's content and your advertising goals.
We can link all of Google's tools including Google Analytics, Google Webmaster, Google Tag Manager, etc. to provide the best possible feedback from your site.
We can optimize your site for Google search crawlers.
Contact us via our Telegram ID: @vuser_support_seo if you need more inoformation.
Contact Us
Contact info for our official site support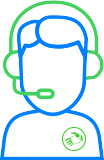 Company Number:
28424347-021
Response time 5:00 to 13:30 GMT
Contact information for SEO consulting and support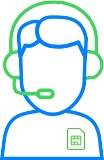 Phone Number:
09111009334
Response time: 10:30 to 17:30 GMT