Order a Custom Bot
One-Time Service Time-Limited Service

Our specialty is making software bots! If, among our ready-made bots, you cannot find the bot you need, you can just simply order it. Our team will design any bot for you within 1 week using the v-User Bot-Maker Software.
All needed information about ordering a custom bot is listed on this page.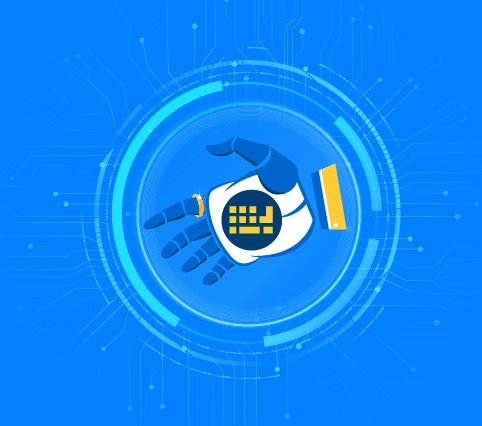 A to Z with us
We are in charge of all the steps of designing and creating the bot.
More info...
Accurate & Error-Free Operation
The specialized v-User Bot Maker has been used by many customers on different systems and has received frequent updates for 10 years, which makes it a perfect and accurate tool for automation with no bugs.

Quick Preparation
The custom bot will be ready in less than 1 week
More info...
The Fastest Way to Have Your Desired Bot
Using the v-User Bot Maker, you can design a bot yourself, but by ordering us a custom bot, you can get a fully ready and custom-made bot without any need for spending time and energy on learning the bot-maker.

Reasonable Price
Much more economical than freelance programmers
More info...
Some of the Custom Bots
Data Transfer from a CRM program to an Accounting program
Ordered by ToseDahandegan Publishing Center
We designed a custom bot for 'ToseDahandegan Publishing Center' that automatically transfers this publishing sales information from their CRM program to an Excel file and then inserts the data into the relevant fields in their accounting program from that Excel file.
Curriculum Registration in Sama Portal program
Ordered by Mazandaran University of Science and Technology
We designed a custom bot for 'Mazandaran University of Science and Technology' that can take all the information related to the weekly schedule of the course units from the Excel file of the professors and automatically enters it in the relevant fields of the 'Sama Portal' program.
Automatic Test Results Delivery to Clients
Ordered by Pars Labratory
With this bot, the process of delivering test results to laboratory clients is done completely automatically; That is, the bot reads the barcode of the client's receipt, checks it in the lab system, and if the test fee is fully paid, the bot prints the test result to be ready to be delivered to the customer.
We have made so many custom bots, some of which we have mentioned here.
Add member to WhatsApp group bot Cryptocurrency exchange process bots Upload product in eBay bot Subito sraper bot Giphy scraper bot Unsplash scraper bot Upload product in Amazon bot Accounting Software Data Entry Bot Extract information from eBay bot
The Process of Submitting a Custom Bot Order
Request Description
Sign up on the v-User website. Then, you can submit your order in our website by sending us a ticket writing of what you need the bot to do for you. Your description of the bot should be thorough and detailed, based on what we mentioned in the "Important Requirement for Ordering a Custom Bot" section. Your request should include a video of what exactly you expect the bot to do so that to design the bot, we can have the right mindset of your expectations.
Time & Price Announcement by Us
We will review the submitted video and your detailed description, and if it can be automated, we will inform you about the time and cost it takes to create the bot. However, the announced cost includes the bot design fee only. To run the bot on any system, you will also need to purchase a v-User Player serial number, which is offered in our website for a very reasonable price.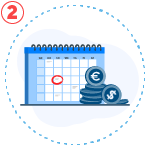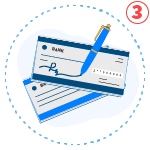 Pay Deposit
If you agree with the terms, delivery time and cost of creating the bot, you will only need to pay one third of the total price as the deposit of your order to submit your order and send us your payment documents via ticket.
Delivery of the Time-Limited Full Version
Your bot will be designed and created by the due date. We will first send you the full version of the bot with a time limit (from a few hours to a maximum of 2 days). This version is available for you to test and let us know if there are any issues or problems (to correct the cases).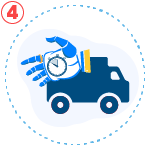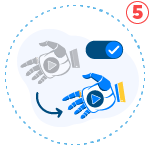 Activate the v-User Player
To test the bot, you will need the v-User player, which you can get from our website and activate its serial number on your system. How to activate the serial number will be sent to you in a video file. Be sure to enable the serial number of the v-User Player on the same system on which you want to run your custom bot.
Request for Corrections
Run the bot you receive and if it does not work according to our initial agreement or if there are any problems in its operation, let us know (via ticket) so that we can quickly check the items and if necessary, correct them.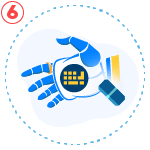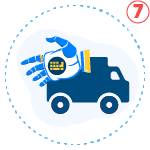 Pay and Get the Full Version
After testing the time-limited bot and your final approval, you will pay the remaining two thirds of the fee to receive the full version of your custom bot.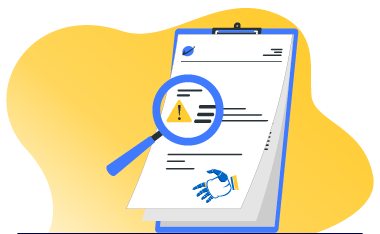 Important Requirement for Ordering Custom Bots
An important condition for ordering a custom bot is that you offer a full and detailed description of the process you want the bot to do. For example...
Example
You ask us to create a bot that "sends messages to WhatsApp groups". To implement this request, you must explain to us clearly how the bot enters the WhatsApp group, for example through a link or through the group name / Where to get this link or name, for example from an Excel file or elsewhere / After entering the group, from where to receive the message that should be sent to the group / If this message is forwarded or direct / If this message inludes a photo or a video or not!
General requests (that lack detailed explanation) will not be accepted by us. However, if at the beginning all the details are quite vague to you, we will ask you some questions and specify the required details w ith your help. We emphasize that one of the fastest and easiest ways to place an order for a custom bot is to send us a video of the steps with audio explanation. That is, you manually do all the work that you want to be automated in your system and record a video of the process and explain aloud how the work is to be done automatically, and finally attach this video to your order. This is the best way to place an order, which also works quickly.
How are custom bots supported?
Since ordering a custom bot is among the time-based services, it can be offered as a one-time task with no further support or with time-limited support after the bot is delivered…
No Support
As mentioned before, the full version of the bot is delivered to you after how the time-limited version works is approved by you and accurately meets all your expectations; Therefore, as long as the target platform (meaning the Website, software, etc. in which the bot operates) does not change in terms of structure and appearance, the bot will work as usual without any need for support services. Sometimes, even though the target platform is updated, the bot may still work without any problems. That is why we suggest you do not pay any extra fees for receiving support and instead, you had better notify us whenever the target platform updates disrupt the bot performance. In that case, in return for a separate fee, we will update your bot with the new structure or look of the target platform and deliver it to you. We call this the No Support Method.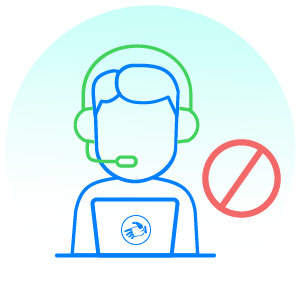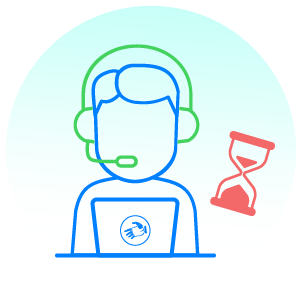 Time-Limited Support
But if you think that the target platform is constantly changing and updated a lot, we suggest that you sign a contract with us for receiving time-limited support. In this contract, for 6 months, you will get support services by paying 30% of custom bot price. However, this period is renewable (at the 30% of the price of the day) and will include the following:
Errors that may occur due to the target platform updates
Software or websites on which your desired automation operations are implemented (such as an accounting program or a website) may undergo structural or visual changes from time to time due to updates; Therefore, support will be required to adapt the bot to the new changes of the target platform. Updating websites or upgrading software features is quite common and it is not out of the question at all. If you have a support contract, you will not have to worry about paying to coordinate the bot with the new changes.
Problems that may occur after the system hardware upgrade
Upgrading some system hardware that results in graphical changes or changes in system speed may require the bot to be readjusted, which will be included in the support contract.
Unpredictable windows
It is likely that after some time of using your custom bot, for tasks whose process has been fully described and automated by the organization itself, the operator will encounter new windows that were not previously foreseen in the bot working procedure (this problem may occur if unpredictable input parameters are inserted). Therefore, the bot coordination with such unforeseen cases will require the support and modification of the bot, which if there is a support contract, the bot will be updated as soon as possible and at no extra cost to you.
Custom Bots Pricing
If you desire to get an estimated price of the required bot, you can get the idea from the following parameters. Keep that in mind we offer specia; discounts for making bots. So practically the final price you would get is much lower than the estimation method here.
Number of human actions
More info
Per action 2 €
Number of conditionals
More info
Per condition 11 €
Repeat loop
More info
per loop 10 €
Scalability
More info
If this option is enabled,
30%
of the calculated price will be added to the total project price.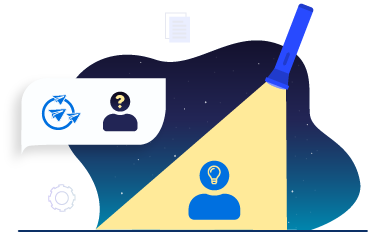 Frequently Asked Questions
About custom bots
Do custom bots need an annual renewal?
No, you only pay once for custom bots and you will no longer have to pay to extend the bot use. However, if the bot needs to be changed, or updated you had better read the notes in
the support section.
Does the custom-made bot belong to the customer and is it not sold to anyone else?
No. All property and intellectual rights of custom bots belong to the v-User company, but if you do not want your custom bot to be sold to another person or to be used in another way, you need to sign a time-limited contract with us.