Purchase Virtual SIMs (TData)
Important notes before the purchase
The SIMs we provide are taken from the websites that have the actual SIM cards, but since we do not have physical access to them, please be careful while working with them, because if a problem occures there is no way to recover them.

The Virtual SIMs will be delivered from 3 to 5 work days and their life is usually 2 months. We have some clients that have used some SIMs for a year or even more with no problems. In any case, you can not count on them to work permanently.

In sending Bulk Messages with Telegram, the quality and the process of making virtual SIMs are very important and it is better that you use high quality SIMs and receive them as tdata.
You can use your credit card to make the purchase

Purchase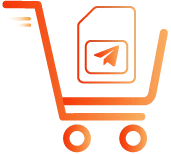 The more you buy,
the higher discount you will get

5.5 €
Important notes after the purchase
The preparation of the virtual SIMs takes

3 to 5 work days

, you can stay in touch with us using our Telegram ID (@vOperator) until you receive them.