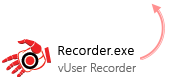 1. vUser Recorder
for recording and saving
mouse and keyboard commands

2. vUser Editor
for editing or adding new commands
to the list of save commands

3. vUser Player
The player robot
for the saved commands
As explained in the introduction video for the virtual user Software files, from the 3 programs of the vUser software, only 2 of them need the serial number, one which is the vUser Player and used for playing the commands and the other is the vUser Editor which is used for editing the commands. Below is a purchase box and activation of the vUser Player. Please read the description presented in the Vertual User software page and the following tips carefully.
The virtual User Software is the main product presented in our website which complete information is described in the Virtual User Software page.
Tips before your buy
If you intent to buy the software package from our website, you

do not need to

buy a serial number separately for the vUser Player program,

because with each purchase a serial number for the vUser Player program will be charged for you automatically.

The vUser complete package is usable permanently, but the

free updates

presented for

1 year,

of course after

the end of a year,

the vUser works perfectly and

does not stop.

The serial numbers will be delivered to you including the package which used for one system only and

is not

transferable to another system by no means. Of course there will be no problem for the license after

changing the windows

and the same serial number

works properly

for the system.
Purchase box for the Virtual User Software full package
Purchase the full package
Virtual User Software

Tips after the purchase
The purchase is

instant

and

after making the purchase,

your registration in website are done automatically and the username and password for the panel will be texted or emailed to you. At the same time the

download links are accessable in you user panel

and also you will be able to receive an invoice and a serial number.
We hope you enjoy our products and services.