A Brief on the Instagram Accounts We Provide
The Instagram accounts that you buy in bulk from the v-User website are the same as regular Instagram accounts and they are no different from the accounts that you create manually, in terms of performance.
Important Notes to Consider Before Buying Ready-Made Instagram Account

The accounts you buy from us are without profile picture, bio and post. If you want photos, bios or posts to be included in your accounts, you must contact our support in advance.

We guarantee that working accounts will be delivered to you, and the account is considered working when you can use it to log in to Instagram for the first time and then we will not accept any responsibility for the accounts issues (for example, in case an account is restricted or blocked, etc.) because after giving you the accounts username and password, we will no longer have any control over them.

After the accounts are delivered, it is necessary that you check them as soon as possible, and in case of any problem in logging in, inform us about the issue in an hour after the delivery.

Depending on the number of accounts you order, delivery time may vary because these accounts are created manually. Usually for orders of fewer than 500 accounts, the delivery of accounts may take 2 to 4 business days.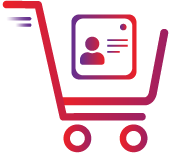 Ready-Made Instagram Account

Price
€
After Purchase

After submitting your order, for making the arrangements, send us the documents of your order in the support chat so that we start to track the order.