What is AnyDesk and how can it be used?
Like many other people, if you have a problem with some software on your computer or if you want to transfer a file to another person's system, you will surely try to deal with it in person. The good news is that you don't need to do this anymore thanks to the use of AnyDesk. You can easily get help from others remotely to fix the problem on your software or transfer the required files from one system to another. Follow us to learn how to work with this software.
Downloading and Installing AnyDesk Software
Before you start working with this software, you must first have it on your own computer system. In addition, in order to be able to connect the two systems, the other party must have AnyDesk software, too. AnyDesk can be run on various systems including Android, iOS, Windows, Linux and Mac OS. Therefore, you can use this software through different platforms and easily solve your problems. AnyDesk is portable by default, so you do not need to install it. You must first download the software and then double-click on the AnyDesk.exe file.
Steps to Install Anydesk
If you want to install the software on Windows, you must follow these steps:
Step 1
Download the AnyDesk software for your Operating System.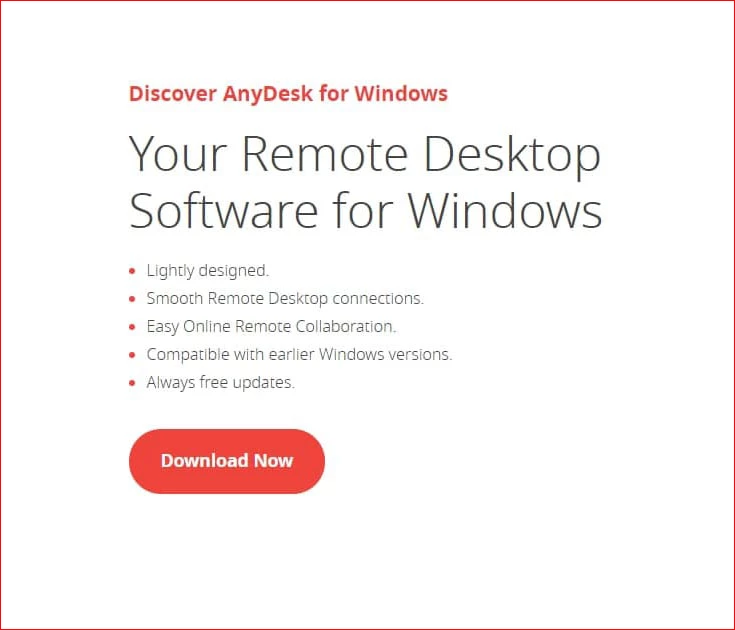 Step 2
Right-click on the AnyDesk file and select Run as Administrator.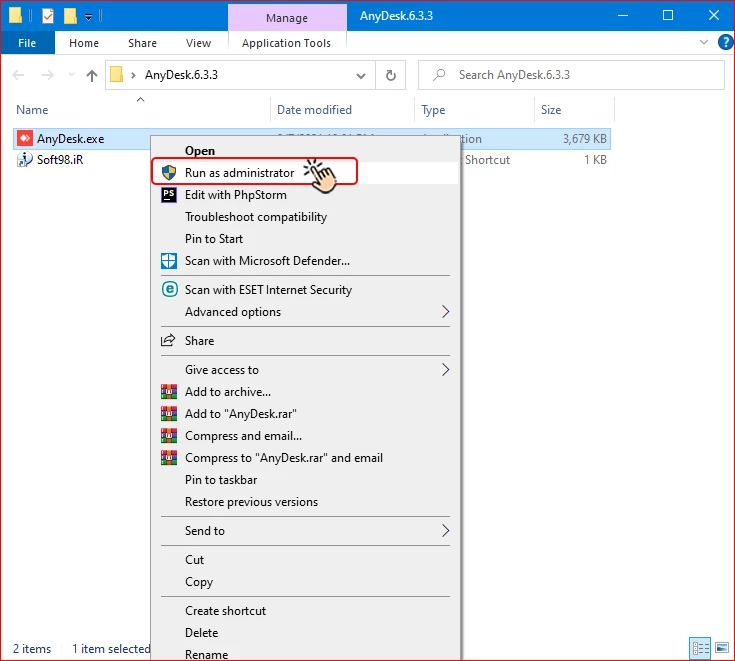 Step 3
A page will open for you. In this step, you must click on Install AnyDesk.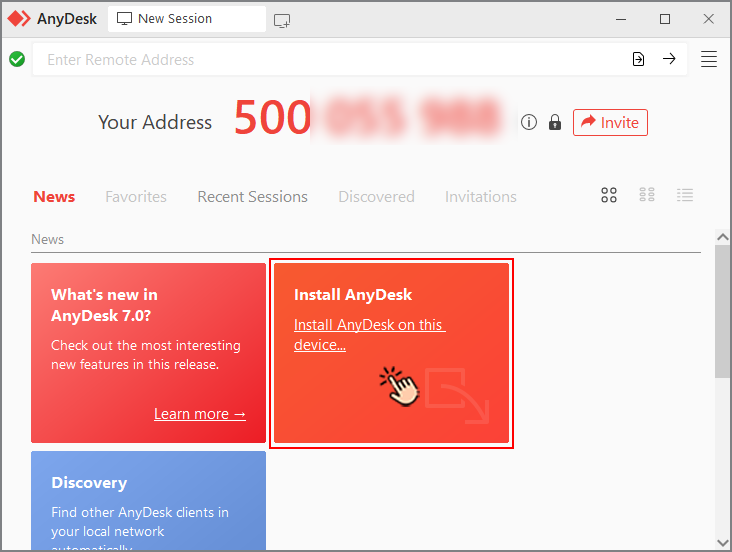 Step 4
At this point, as shown, you do not need to change the default options, but if you want to change the software installation path, you can change the default options. We recommend that you do not change the default settings and click Accept & Install.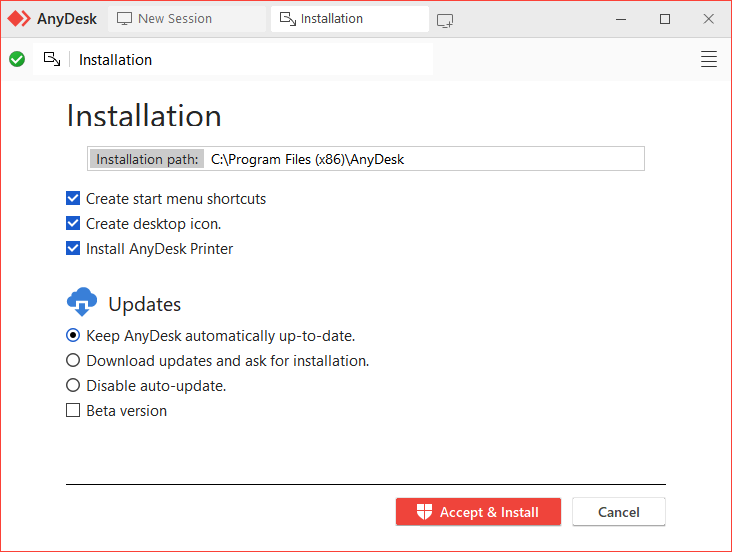 Step 5
In the new page, click on Get Started to enter the main page of AnyDesk.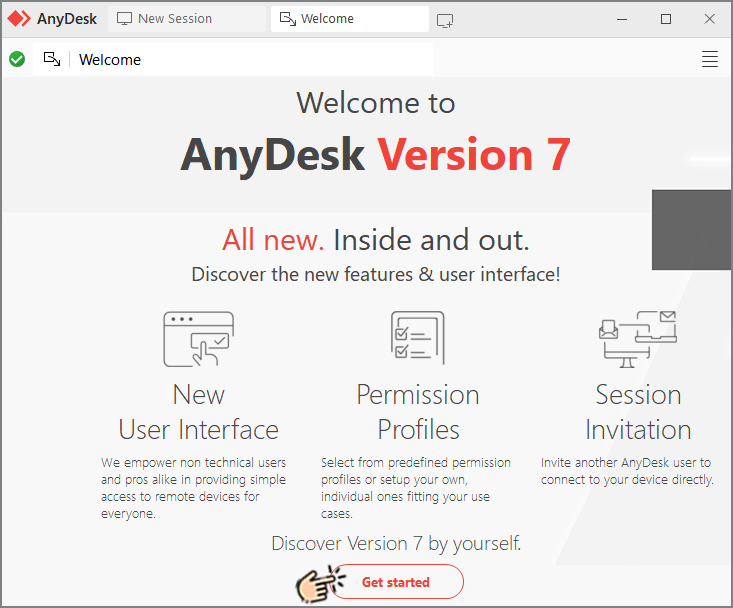 Step 6
When done, you will be led to the main page of the software. There is a 9-digit ID on this page in the Your Address section. This ID is required and of course necessary for your connection.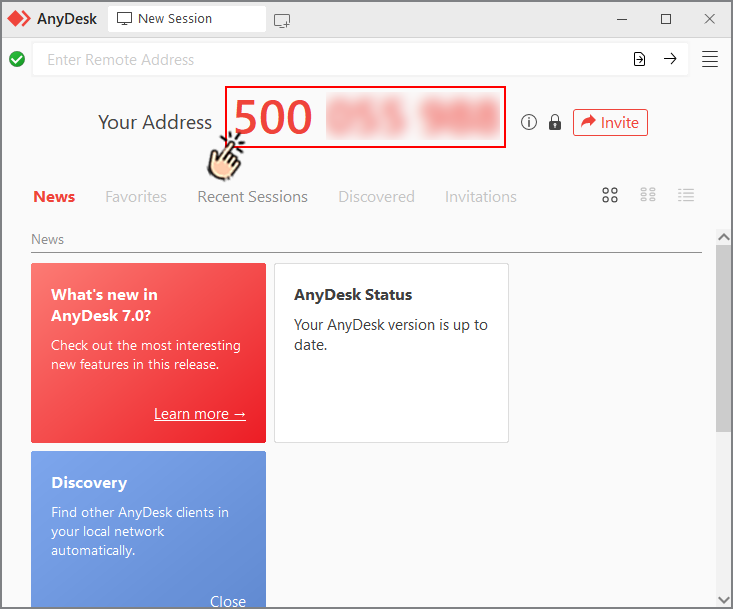 How to Share Your System with Others Through AnyDesk
You can see your ID in the Your Address field and give it to the other party and then wait for them to send you the connection request.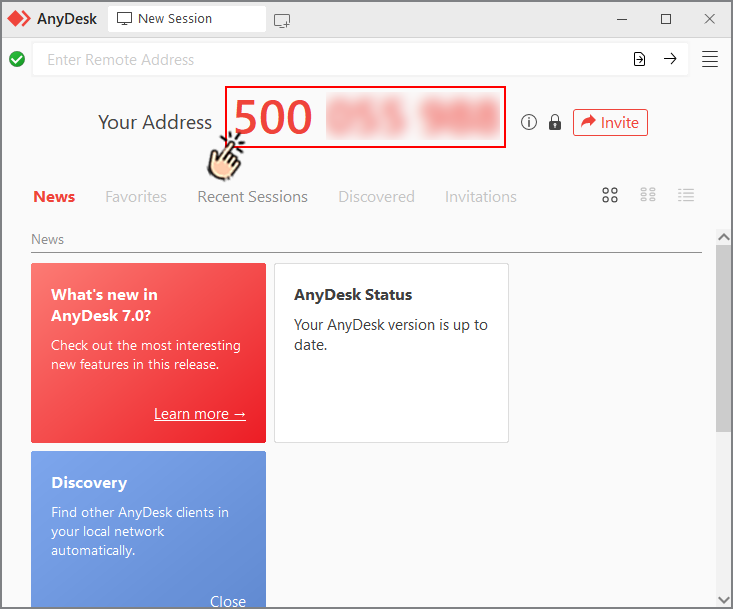 After the other party sends you a connection request to your system, you will see a page like the one below. You must click on Accept to establish a connection between the two systems.
How to Connect to Others' System via AnyDesk
To connect to others' system through AnyDesk software, you must get the 9-digit ID of the other party. Then enter that ID in the Remote Desk field.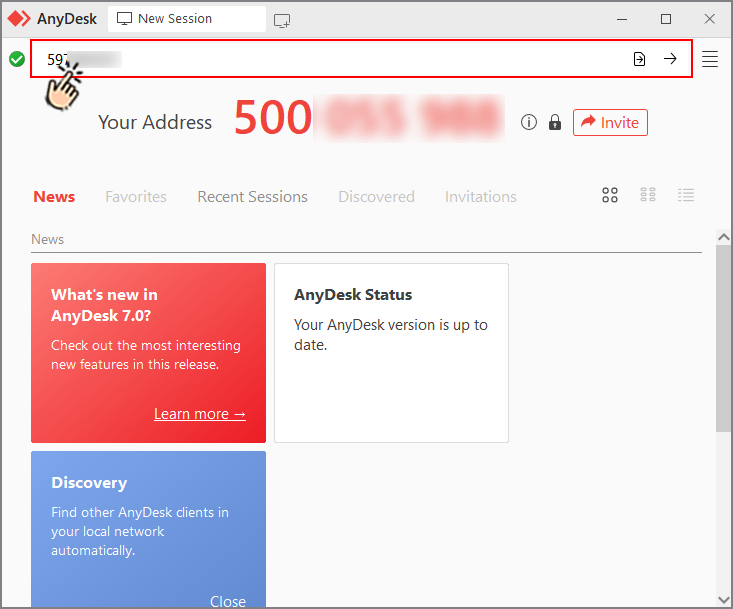 After inserting the 9-digit ID, click on Connect (the rightwards arrow)
After accepting your request by the other party, you will have access to their monitor screen and you can perform your intended actions remotely.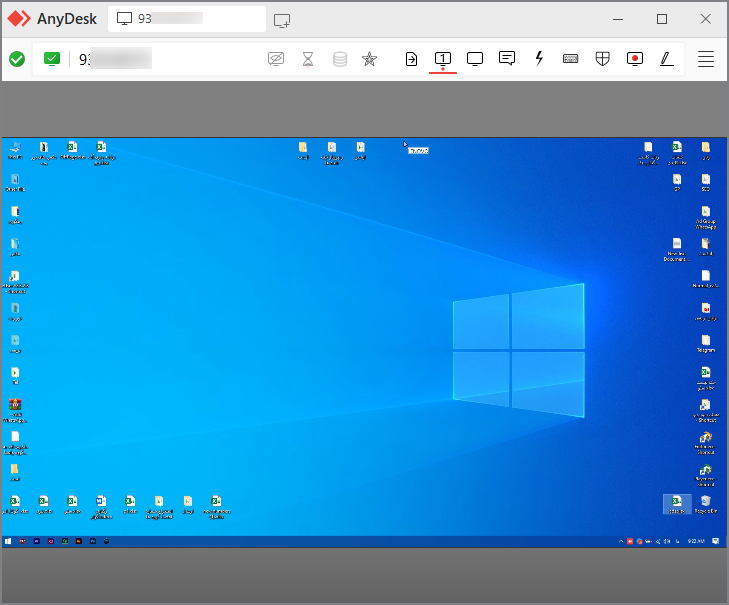 What access does someone who is connected to our system have? How can the access level be set before connecting?
Once you give your ID to someone and that person logs in to your system, you can specify the way of access, too.
As you can see, in the window that is displayed for you, you will see the image name and the intended person's ID. To apply the restriction, before accepting the connection request to your system, specify the amount of access to your system in the Permission section as shown below. Each of these accesses is related to a specific topic.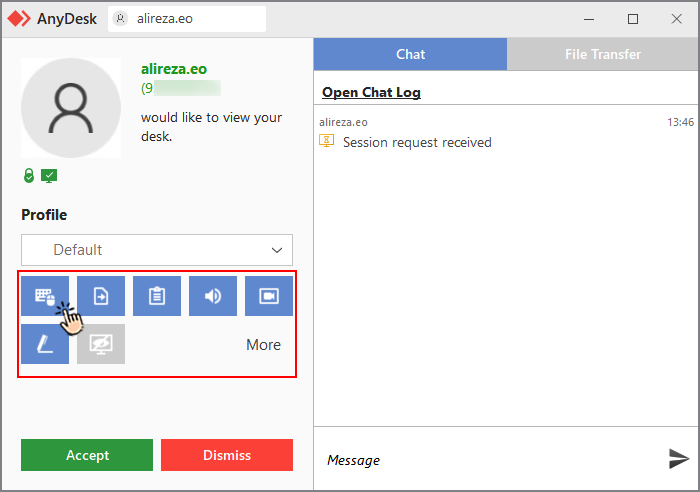 Just hold the mouse over each of these icons for a few seconds until the icon name appears next to that. In the following, we will explain which permissions each of these items is for.
Allow to take control: If you check this option, the other party is in complete control of your system and all parts of your system are available to him. Now if you uncheck this option, the other party can no longer control your system and can only see the image.
Allow to use clipboard: If you check this option, you can Copy & Paste between the two operating systems and transfer your files or texts. And if you uncheck this option, you can no longer transfer files or texts between the two systems. In this method, you will see any file that the other party copies to your system.
Allow to use file manager: By activating this tick, the other party can transfer a file from its own computer to your computer or from your computer to his/her own computer with the help of File Manager feature that Anydesk has. In this method, you do not see what files the other party is transferring to your system.
Allow to hear sound: If this option is enabled, the other party will hear all the sounds of your system, including the sound of music; So if you do not want this to happen, you must uncheck this option.
Allow to lock desktop on session end: If you check this option, the other party can lock your computer after work is done. This check is only used if you want to get away from your computer and you want the other party to lock your computer after work so that people around cannot have access to your system.
Allow to record sessions: Checking this option allows the other party to record the video of all the actions that are being performed on your computer.
After setting the permissions, you can click on Accept. This establishes the connection and the other party can have access to your system.

Moreover, if you want the other party not to connect to your system you can click on Dismiss.

How can we chat with the other party via AnyDesk while connecting?
After the two systems are connected to each other via AnyDesk software, a page will open as shown below. In the tab at the top of the page, click on Chat. This way, you can chat with the other party. It should be noted that, whenever the other party sends you a message, this part will be blinking in gray and dark blue colors.


A small window will open when you start the conversation. In this window, you can see the other party's messages and also yours.

How can we transfer a file from our system to other party's system?
The process of transferring a file from your system to the other party's system is quite similar to a normal Copy & Paste. All you have to do is:
Select the file you want and then copy it by pressing Ctrl + C at the same time.
Refer to your system and paste it in your desired location by pressing two Ctrl + V keys at the same time. In addition, when the following window opens for you, you can click on the Download option and by doing so, download the files from the other party's system.
Note
Note that to transfer a file between two systems via Copy & Paste, you must enable the Allow to use clipboard option.
Frequently Asked Questions about AnyDesk
Do I need to pay to use AnyDesk? AnyDesk software is generally free. The free version of this software provides features such as recording and connecting to other devices. Of course, if you want to use more features of this software, you must pay a fee for your Professional account. By providing a special account and a monthly payment of 20.99$, you can make use of other facilities such as accessing to unlimited devices, address booklet and customization of accesses.
The more advanced version of AnyDesk software allows you to have an unlimited number of simultaneous connections for $ 52.99 a month. Is AnyDesk secure to use? Fortunately, AnyDesk software is a secure software program because you can observe everything that the other person is doing on your system. However, as we said before, you have to restrict the other party's access or give him / her as much access as you want before connecting. In this way, connecting to your computer would be secure and there will be nothing to endanger your system.
Having said that, if you notice suspicious behavior while connecting, you can quickly close the software and disconnect. For disconnecting, according to the image below, you can click on the Disconnect option on the remote side.
There is another solution, too. If for any reason you notice severe suspicious behavior while working, just press Ctrl + Alt + Del and cut off the other party's access.
Wrapping Up
Fortunately, AnyDesk software offers a lot of features to the users. This software helps different teams to do all their work remotely. With different capabilities such as connecting the two systems to each other and transferring different files between the two computers, you do not need to do your computer actions in person anymore.