If you have to work with WhatsApp for long hours and communicate with your colleagues or customers through WhatsApp, working with WhatsApp will be difficult for you, especially if you need to transfer different files for people during the day. In such cases, using WhatsApp Web (WhatsApp Desktop) is a better option for you.
WhatsApp web features are not much different from the mobile WhatsApp app. But keep in mind that you can not make voice and video calls through WhatsApp Web.
You can see some of the features of WhatsApp Web in the image below:
If you do not know much about WhatsApp Web, join us in this article to learn how to activate and use it.
How to Run WhatsApp on PC (WhatsApp Web)
To use WhatsApp Web, your mobile phone must be turned on, connected to the Internet and WhatsApp must be enabled, because WhatsApp Web is dependent on the phone.
Step1
Log in to WhatsApp via phone. On the Chats tab, tap the three vertical dots icon ( ).
Step 2
Select Linked devices.
Step 3 Then open WhatsApp Web on your computer.
A QR code is displayed, you need to hold the phone camera on the QR code displayed on the computer to be able to use these versions.
How to Save an Account on WhatsApp Web
If you use WhatsApp Web on your PC, you do not need to log out each time you use of WhatsApp, Because every time you want to check it, you have to go through all the steps from the beginning, and this is a bit difficult and time-consuming. If you always want your account to be active on the WhatsApp web of your PC, just enable the keep me signed in option when scanning the QR code.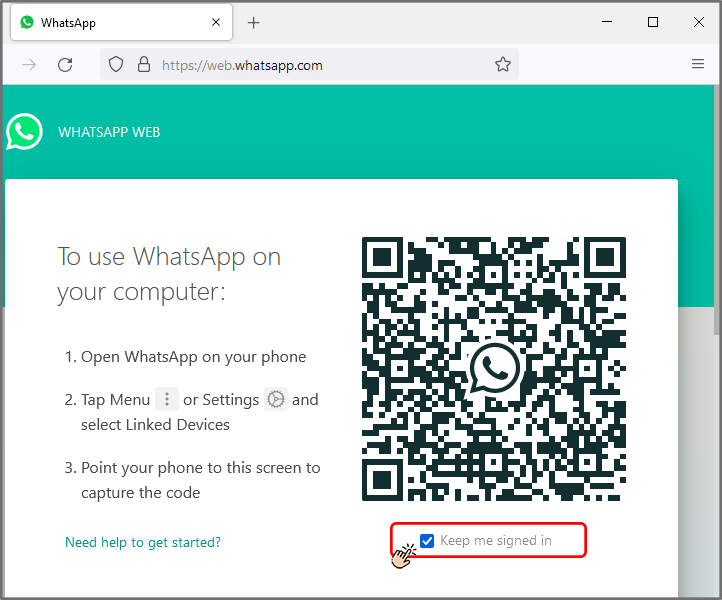 Access to Multiple WhatsApp Accounts on a Single System
If you want to access multiple WhatsApp accounts on your computer, you must use a different browser to log in to WhatsApp Web for each of your WhatsApp accounts. For example, you can have one of your WhatsApp accounts in Chrome browser and another WhatsApp account in Firefox browser.
Note that you must be using the latest version of Chrome, Firefox, Microsoft Edge, or Safari to use WhatsApp Web. Other browsers are not as supported as Internet Explorer.
Check for WhatsApp Web Connection Problems
If you can not connect to WhatsApp Web, you should check for 2 common issues:
1. Mobile WhatsApp connection
2. Computer internet connection
In the following, we will examine each of these cases.
Mobile WhatsApp Connection Problem
As we mentioned at the beginning, when using WhatsApp Web, your phone must be constantly connected to the Internet. This means that if you can't send or receive messages from your phone's WhatsApp app, you can't do so on WhatsApp Web because your phone's WhatsApp is not enabled. If you see a message stating "Phone not connected" on your mobile WhatsApp, it means that your mobile is not connected to the Internet. Then check your mobile internet connection.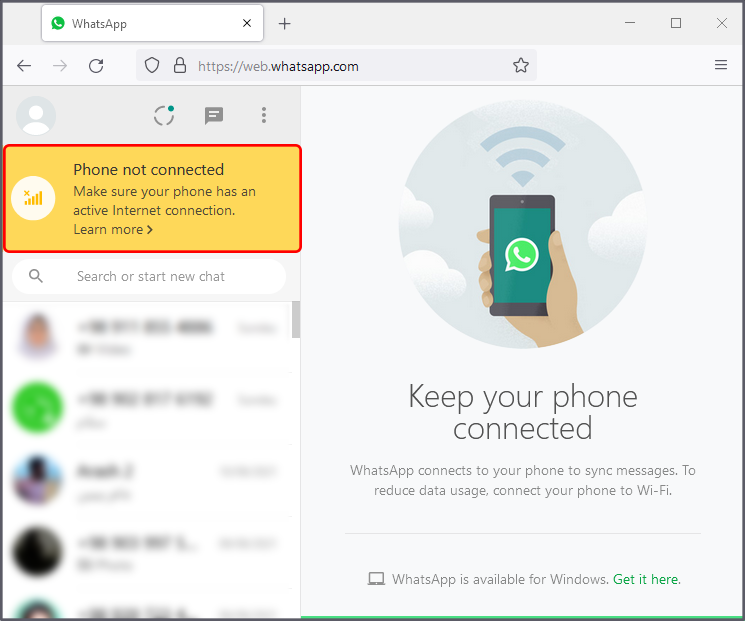 Once you are sure your phone is connected to the Internet and you can send messages from your phone, open WhatsApp Web again. If you still have problems, the problem is probably with your computer internet connection.
Computer Internet Connection Problem
Your computer must be connected to the Internet while using WhatsApp Web. If the message "Computer not connected" is displayed to you while working with WhatsApp Web, it means that your computer is disconnected from the Internet.
Once you are sure that your computer is connected to the Internet, open or exit WhatsApp Web again. If there is still a problem, log out of your account once and sign in again.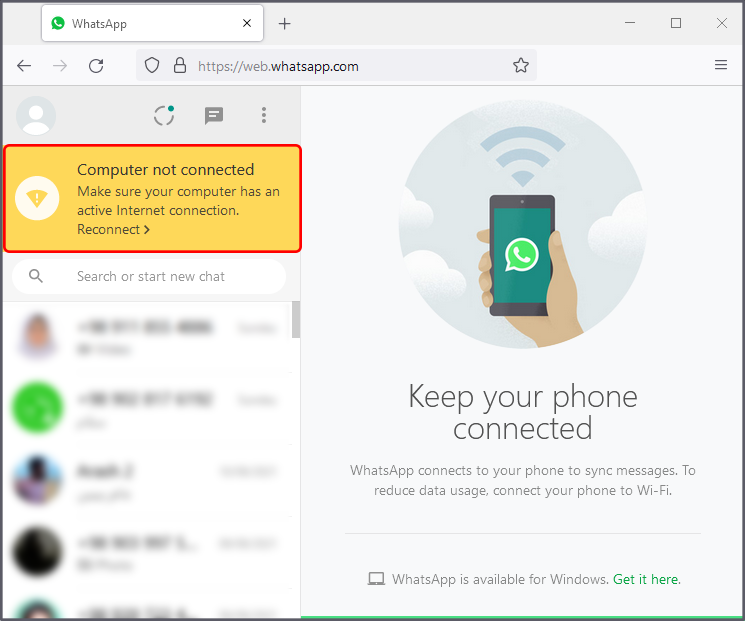 In Conclusion
If you use WhatsApp to communicate with people constantly and transfer so many files in your chats, it is much better to use WhatsApp Web on your computer. In this article, we taught you how to run WhatsApp Web and discussed some of the features of WhatsApp Web. We hope you will find this article useful.