Key Information about Instagram's Action Blocks
You probably know that Instagram has some restrictions on the activities like Following, Liking, Commenting, and such, that if you violate, you will be given an Action Blocked message. If you get an Action Block message, it means that you are temporarily banned from performing some actions (like following, liking, or …) and as long as these restrictions are in place, you will not be able to take them.
In this article, we will explain all the reasons behind action block, how to fix them, and the precautions that can help you prevent them.
Types of Action Blocks
Action block messages usually come in 2 types: they are either timed or untimed (see the following images)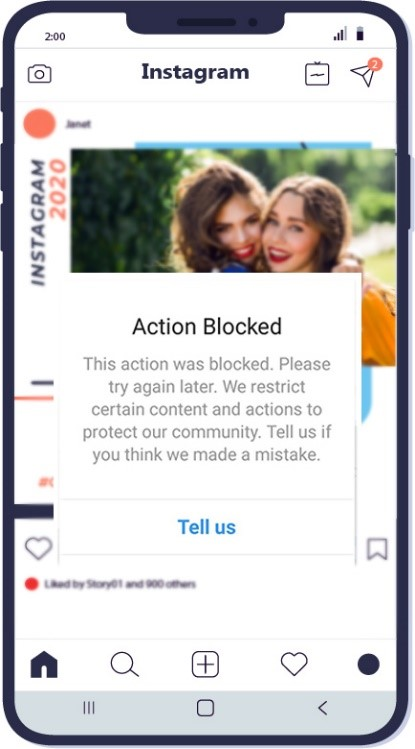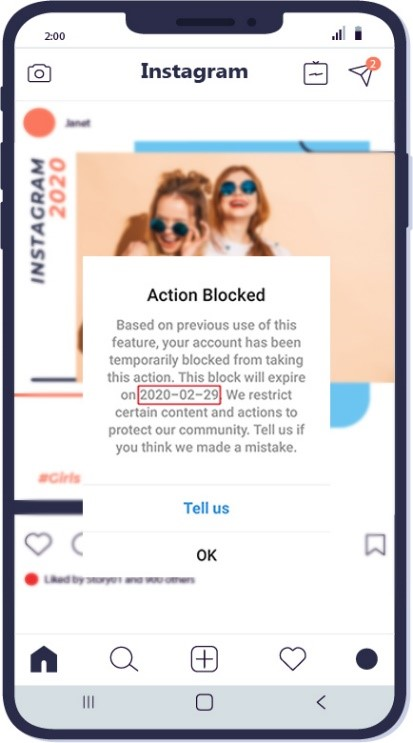 It's easy to fix an untimed action block, but for the timed one, we will have to wait until the specified time passes. However, timed action blocks usually appear after multiple untimed action blocks, therefore it's better if, the first time that an action block happens, you take the preventive measures (that we will explain in this article) so that it won't happen again.
Fixing the Action Block problem
If for any reason, your actions have been blocked on Instagram, the easiest way to fix it is to:
Change the password of your Instagram account and

log out of it

Delete your action history by clearing the cache or uninstalling and reinstalling the Instagram application
Sometimes, you will need to turn your router on and off (or on your phone, put it on and off airplane mode) so that

you get a new IP address.
After performing these actions, if you log in to your Instagram account with the new password, you'll see that the action block problem has been fixed!

An Interesting Note about the Timed Action Block
As we have said, for the Timed Action Block, you will need to wait until the time passes and then try to fix it. However, in some cases, we have seen that after performing these actions (the methods of fixing action blocks), the Unfollow and Unrequest operations will become available (in other words, these actions will no longer be blocked) and after unfollowing or unrequesting some of the last followed accounts, the action block will go away before the specified time.
How to avoid Action Blocks
(preventive measures)
Rule Number
1

(very important)
While using Instagram, whether on your phone or system, never use a VPN (or a proxy server). In general, if the

IP

of your system

suddenly changes

to another country, you will definitely be Action Blocked! (if you're using Virtual Private Servers, you need to make sure that they are not from other countries).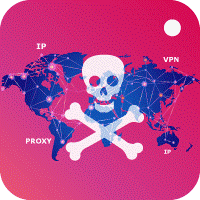 Rule Number
2
Try to

act like a human,

and don't repeat an operation again and again! In normal circumstances, no one visits the same Instagram page (like the Instagram account of Lebron James) every single day, to follow his followers! Or no one searches the same hashtag every single day to like its posts. If a hashtag is important for a person, they will follow it, to monitor the hashtag on their feed.

If you are using the Virtual User's Instagram Bot, configure the Cycle Maker yourself (do not copy and use the same settings).
Rules regarding the Number of Actions
Do not publish a lot of posts in a short period.
Do not

like

more than

350

posts in 1 hour

If your account is less than 6 months old,

do

not

follow

more than 20 accounts per hour,

but if your page is old enough, you can

follow up to 60 accounts

which is the maximum number of follows per hour.
Rules regarding Comments
Be careful! Commenting is the only operation in which the users have the option to Report you. In other words, the people who see your comments can report you to Instagram as a spammer! And Instagram is very sensitive and serious about these reports! Therefore, you need to act very intelligently regarding your comments.

First,

try to leave comments less often, and instead, follow other accounts or like other posts;

it's better to

leave 30 comments per hour,

and of course the less, the better.
Then,

try to compose multiple types of messages

(at least 5 different messages) and try to make them

as different from each other as possible.

Instagram infers similar messages as spam!
Be sure that you have composed the messages politely and popularly, and

consider the psychological aspects of the message;

this is an important issue that is outside the scope of this article, but at the very least you need to know that if people do not like your messages, they are going to report it, so you need to think about the content of your messages carefully.

If you are using the bot to leave comments,

you need to act intelligently and

use it to comment on Hashtags

instead of commenting on the posts of a single account. Leaving comments on the posts of other pages is tricky, since the topic of the posts might be different from the contents of your comments, and this difference may lead to the comments being reported. But if you leave comments on a hashtag (for example the "shoe sales" hashtags) your comments will always be relevant to the topic of the posts.
Instagram Bug in Action Blocks
We have seen that a small number of our customers get action blocked for no apparent
reason (on their phones and after not a lot of actions) and what is interesting is that after investigating this issue, we found out that there is no logical reason for Instagram to block their actions! When we saw this issue repeating in some other cases, we became curious to see if anyone else is also facing it.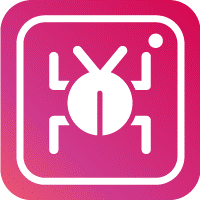 After a lot of research, we came upon an explanation about this strange behavior in an international forum.
"If you send a follow request to a person (who usually has a lot of followers), and that person had previously sent a hack report to Instagram, you may face this bug and as a result, Instagram is going to block you!" We do not think it is a reasonable explanation, but the interesting part is that they suggested a method to fix this bug, and this method, as strange as it sounds, solved all the problems!
How to Fix the Bug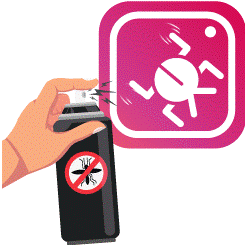 You need to Unfollow and Unrequest all the people to whom you have sent a follow request.
When our customers canceled their requests and unfollowed all their followings, they saw that in addition to this bug having been fixed, their account was placed in a very good position to attract followers!
Unrequest is not a word! But since we have developed a bot that cancels the pending requests. we have used this made-up word to name that bot (by pending requests, we mean the requests that have neither been accepted nor rejected)
This may also be interesting for you
One of the symptoms of this bug, which we have faced on our customers' accounts, was the issues in the display of followings. In some cases, the name of the followings was not visible, and sometimes, the number of real followers was different from the number that was displayed on the profile section!
Considering the experience that we have obtained regarding this problem, we usually advise our new customers to reset (remove all of) their followings and follow requests, so that their account gets in a good shape and becomes ready to attract more followers.