How to Block & Unblock on Instagram
Most people today tend to use Instagram for positive advertising and socializing, although once in a while you come across an account that you prefer not to see anymore. There may be a user you no longer get along with and you do not want them to see your posts, maybe someone is annoying you with their messages and comments. In such cases, blocking that person is the best possible option.
Blocking and unblocking on Instagram is easy, and by following a few simple steps, you can make sure that you get rid of an annoying user on Instagram.
What happens if you block someone on Instagram?
First of all, it should be noted that if you block someone on Instagram, Instagram will not notify them that they have been blocked, but the blocked accounts may find it out for themselves because once they are blocked, they will not be able to find or see your profile, posts or stories. If the blocked account clicks on your username or searches for it, Instagram will take them to a page that says "user not found".
Blocked accounts can still mention your username on Instagram, but their mention will not appear on your activity page and you will not be notified. If the blocked account was already following you, your posts and stories will no longer appear in their feed.
But there are still things that you cannot easily get rid of, for example, if the blocked person has already left a like or comment on your page, all these likes and comments will remain under your posts, and after the account is blocked, likes and comments do not disappear automatically. It should be noted that you cannot delete other people's likes from your Instagram posts, but you can delete their comments voluntarily from your page.
Now, if you were in the same Instagram group with a user who you have blocked, when you open that group, you will receive a message asking if you want to stay in the group or leave it. If you choose to stay, you can view blocked account messages in that group chat.
You cannot follow the accounts you have blocked or view their posts and stories. If you block someone, they can still see any likes or comments you leave on other public or private accounts.
In this article, we are going to focus on block and unblock on Instagram. Stay with us.
How to Block Someone on Instagram
Instagram allows its users to block any account they want, not just accounts that follow each other. In addition to harassing accounts, you can also block accounts that you do not follow but do not want to see their content, even on Instagram Explore.
Steps to Block Someone on Instagram
To block an Instagram user, just follow the steps below.
Step 1
To block someone on Instagram, you must first find the account you want to block. To find that user's account, you must first click on the magnifying glass icon at the bottom of the Instagram page.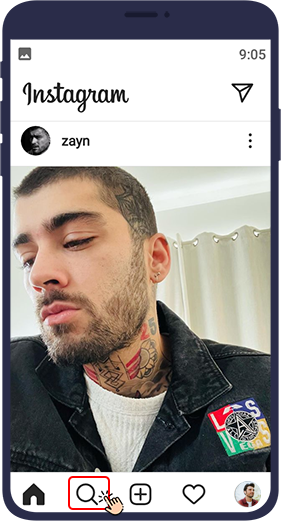 Step 2
Then in the top bar of the page, type the username (ID) of that user and find the desired account among the search results and tap on his name.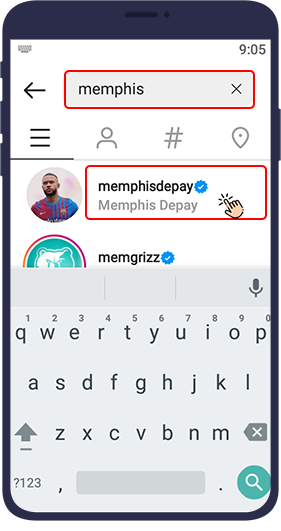 Step 3
After entering the person's page, tap the three vertical dot icon() at the top right of the page.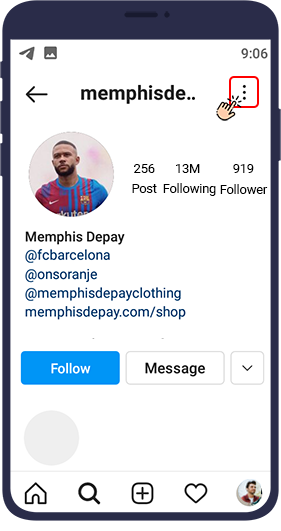 Step 4
Then select Block.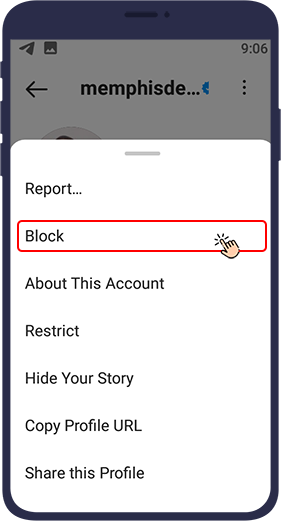 Step 5
Then two options will be displayed for you.
After selecting one of these two options, press the Block button.
The first option is to block this person and any new accounts they may create.
The second option is used for blocking in normal mode, ie you only block the same account and not other accounts that belong to the owner of this account.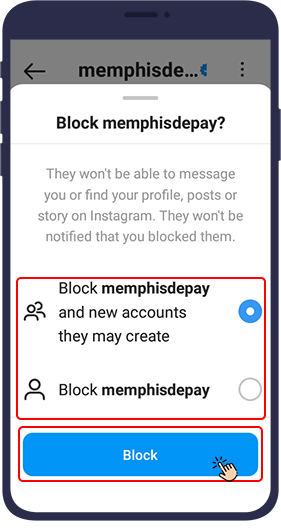 Tip
If you use Instagram on your computer, the process of blocking users is similar to these steps. The only small difference is that the three dots icon is next to the user's profile name.
How to Unblock Someone on Instagram
Once you have blocked someone, they will no longer appear in your feeds or searches, making it a bit difficult to find their account. This is where the list of blocked people comes in handy.
Your list of blocked people is basically a list of every account you have blocked since the beginning of your Instagram account. Fortunately, this list is private, so no one can see who you are blocking. When you want to unblock someone, you must first find their account from this list.
Steps to Unblock the Blocked Accounts on Instagram
Follow the steps below to unblock on Instagram.
Step 1
Go to your profile and press the menu button with three lines icon () in the upper right corner of the screen.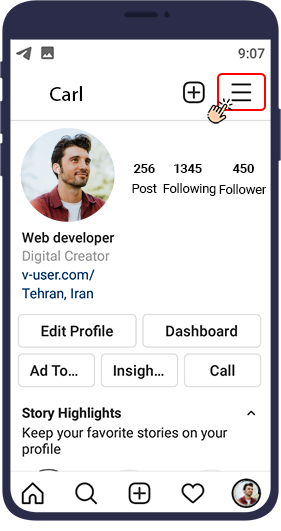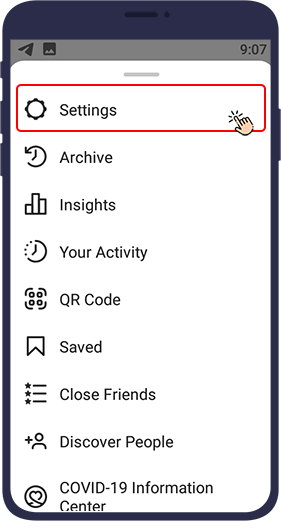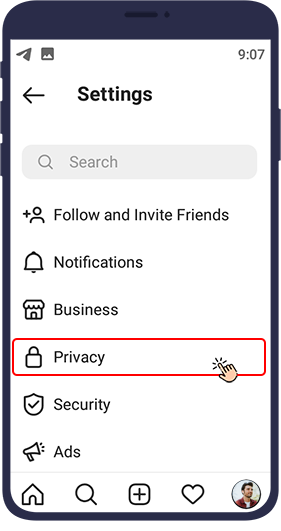 Step 4
Select blocked accounts.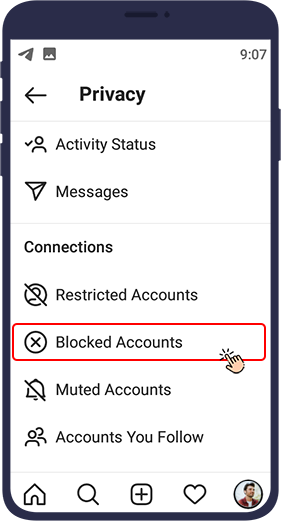 Step 5
On that page, you will see a list of accounts that you have blocked so far. Find the account you want from this list and press the Unblock button in front of the account.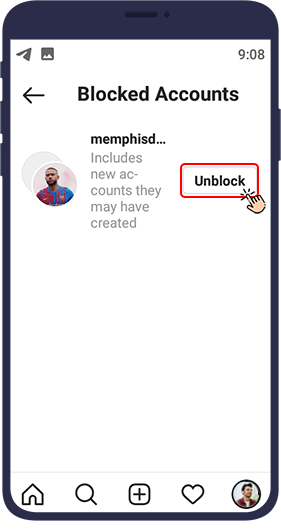 Step 6
Instagram then asks you if you are sure you want to unblock the account. Press unblock.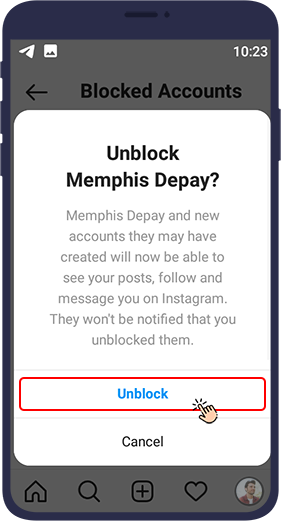 Tip
Keep in mind that the only thing you can do to clear the list of blocked users is to unblock them all.
While blocking someone on Instagram is an effective way to keep them out of sight, there are other ways to limit your interactions. For example, you can remove them from your followers.
How can I find out if someone has blocked me on Instagram?
There are several tricks to know if someone has blocked you.
The first trick to detect if you are blocked on Instagram
Search for the name of the desired account. If you are sure that the ID is correct, but the desired account was not found in the Instagram search, you have definitely been blocked by that account. Sometimes you may log in to the person's account and see their profile picture, number of posts, number of followers and followings, but on the page you see No posts yet, which means "The account owner has not published any posts yet". In this case, too, you are definitely blocked.
The second trick to detect if you are blocked on Instagram
To make sure that someone has blocked you or not, you can use another account (yours or a friend's) and search for the person's username. If you were able to access his or her account using the new account, but you could not find the page with your account and see the posts, there is no doubt that you have been blocked.
Tip
If a user changes their username, you will not be able to easily find the desired account by searching their previous ID, and this does not mean that you have been blocked by that account.
In the end
As you can see, Instagram allows you to block or unblock anyone on Instagram. You can do this as many times as you want, so it doesn't matter how many times you change your mind.