WhatsApp Advertising Bot Package
From vUser Bot Series

This product is actually a package of several bots for WhatsApp advertising, which also includes special tutorials of tips and tricks to avoid being reported and blocked. The bots of this package have features to send photos, videos, links, emojis, etc. along with advertisements, and can extract the mobile numbers of all members of WhatsApp groups.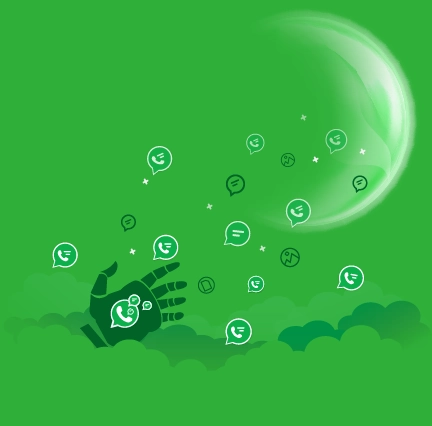 %100 Secure
Click the button below for more information on security
More info...
Easy to use
Watch how the bot works
100% visit rate
The purpose of advertising is to be seen. In today's world, what better place to hang out than in a private chat?

Free Trial
The trial version is limited but it clearly shows how the bot works
Download
No Charges for Every Message Sending!
Whatsapp Advertising Bot Package is some software that is installed on your system, using which you can send unlimited number of messages, without paying any charges for sending every Whatsapp message
Attention
Due to the nominal similarity, do not confuse our bot with the bots in WhatsApp, our bot is a piece of Windows-based software that is installed on your computer.
Features & Facilities Of WhatsApp Marketing Bot Package
General features of all WhatsApp Marketing Package bots
Ability to use real and virtual SIMs Ability to switch between accounts automatically Automatically skipping numbers that are not on WhatsApp Ability to run on VPS and virtual machines
Special features of WhatsApp Marketing Bot Package
Ability to use the system mouse & keyboard while the bot is running Ability to separate WhatsApp numbers from non-WhatsApp numbers Delivering reports of completed tasks Marking accounts to which the message has been sent Ability to continue the process from where it was paused (in re-executing) The Unique ability to forward messages Forwarding messages, is a common and everyday activity to which WhatsApp is not sensitive
Special features to reduce block & reports
Ability to send unique messages to each phone number Ability to insert name, gender and other titles of each person in the message Ability to extract group members and sending targeted messages Having access to the valuable PDF file of "Tips & Tricks not to Get Blocked" Containing our experience in WhatsApp bulk messaging
About WhatsApp Marketing Bot
WhatsApp is not unlimited in sending mass messages to strangers! That is, there is a ceiling for each line, which has WhatsApp on that line, depending on how long it has been active.
More info...
An important rule of advertising on WhatsApp
×
Important Principles on WhatsApp Marketing
For bulk messaging your
mutual contacts
(meaning people who have saved your number or have sent you a message), you will have no limitations. And in fact,
due to the high speed of the bot,
you can easily send messages to all of them on a single day. To increase operation speed, you can copy the bot in multiple folders and run them simultaneously.
More information about running multiple instances of the bot
But for
anonymous numbers
(meaning people who have not saved your number, and have not sent you any messages), WhatsApp will not let you send more than 100 messages per day with each WhatsApp account. Obviously, the mentioned number is too low for Your WhatsApp advertisement to be effective. Therefore, in Package Tutorials, we have introduced some resources to
purchase low-cost Virtual SIMs, and we have also explained how you can maintain and use the virtual SIMs,
so you can increase the number of daily messages economically. In addition to that, for you to be able to keep multiple WhatsApp accounts online, we have explained some
special tips and tricks that you can use to install multiple WhatsApp accounts on one phone (or android simulator)
so that you won't have any problems in that area.
Considering the guidelines that are included in this package and since the main operations of sending messages are automated, if you purchase this package, you will have
the most comprehensive tool for WhatsApp Marketing.
Other notable points
Multiple WhatsApp on 1 phone
There are easy ways to install multiple WhatsApps on one phone
Read more ...
Multiple WhatsApp on 1 phone
× With apps like App Cloner, you can install as many WhatsApps as you want on one phone. We have introduced several examples of App Cloner program in the package tutorials. Also (even if you do not have a smartphone) you can install Android emulator programs (such as NOX or Bluestack) on your system and install WhatsApp on them.
The system is free while the robot is working
While the WhatsApp Marketing Bot is working, you can use your system for other tasks
Ability to distinguish WhatsApp numbers from non-WhatsApp
If the robot encounters a number that WhatsApp does not have, it will pass it and will not face any problem.
Ability to send ads in WhatsApp group
The robot can send your ads in groups of your choice.
Short text
If the robot encounters a number that WhatsApp does not have, it will pass it and will not face any problem.
More info...
Short text
×
Run at the Same Time to
Increase bot"s Speed
The WhatsApp Marketing Bot
has the ability to be run multiple times on one system.
therefore, you can copy the files of this bot on multiple folders, and then run them with different configurations, so that they run simultaneously, and increase the speed of the operation. Of course, to be able to do this, your system must have powerful hardware, because multiple Firefox browsers and multiple Excel files need to be opened in this setting.
To use this feature, you should be careful to copy all the folders of the package to a different location, and then run the Macros of every folder separately, with a separate Player.
After Purchase
The download link immediately becomes available after purchase
After the purchase, the download link will be added to your User Panel on the website. To access this link, first, you need to enter your username and password and log in to the User Panel (the default username and password is the email address and phone number that you have entered in the purchase box), and then, go to the Download purchased products section. We have also the list of all the folders that you will have after downloading the full version of WhatsApp Bulk Messaging Bot Package.
Special Tutorial Videos of the Full Version
For the Full version of the 'WhatsApp Bulk Messaging Bot Package', we have made a special tutorial video, which is different from its Demo version. This video is in the __Tutorial Videos__ folder WhatsApp Bulk Messaging Bot Package. However, the package that you download is a compressed file, and to access its contents, first, you need to extract it. By watching and following all the steps that are shown in the tutorial video, you can easily install WhatsApp Bulk Messaging Bot Package and use all of its features. In addition to this video, there are some PDF files in the folders of each of the macros, that describe the usage and additional notes that are specific to each macro and the contents of each folder.
Purchase other Products for Half of the Price (on the same system)
We have designed the Software License of our products in a way that if you activate just one of them in your system, the other products will no longer need to be activated, and you will not need to purchase the serial number. In other words, you can use the same activation code for our other products on the same system. The price of each package is a combination of the prices of bots that are included in the package and the price of 1 serial number (activation code), and as we mentioned, you will no longer need to pay the price of the serial number. Support for the Initial Setup phase By support, we mean solving software problems, and teaching is not a part of it. That being said, if you need our help in the initial phases of using the bots, we will be at your service and you don't need to worry about it. Support for Solving Software Problems About solving the issues that might happen with the software and the updates, you can check the "Change Log" section at the bottom of this page to see how active our company is on this matter.