How to Change WhatsApp Profile Picture & Other Tricks
WhatsApp profile picture gives the audience the first impression about your personality. That is why your profile picture must be chosen carefully; specially if in addition to communicating with your family and friends, you use it for your business affairs.
If you want to know what picture is suitable for WhatsApp profile, how you can change your WhatsApp profile photo and what tricks will help you in this regard, join us in this article.
Features of a Suitable Image for WhatsApp Profile
Having a quality profile picture can be important for anyone. But what are the features of a good WhatsApp profile photo? We will answer this question below.
The most ideal profile picture is the photo of your face. Do not hide your face and look directly at the camera and smile, this will make it easier for people to communicate with you when they see your profile picture and know that you are a real person and not a fake number.
Do not put selfies in WhatsApp profile. A selfie is not formal or professional at all and is not suitable for this purpose.
Group photos are not a good option for profile photos. You had better put a picture of only you and not other people in your WhatsApp profile.
Edit the photo before inserting it in your WhatsApp profile. Do not overuse ready-made filters.
A good photo should be well framed and your image should be in center of attention more than the background is.
WhatsApp profile image must be in maximum size of

500 by 500 pixels in JPEG or PNG format.

If you use your WhatsApp for business, it is better to use the color of your organization, uniform or brand logo.
But for some reason you may not want to publish your face and want to use another photo. In the following, we will introduce a number of free websites that offer high quality images on various topics.
Change WhatsApp Profile Picture
You may want to change your WhatsApp profile picture. It is very easy to change your profile picture both on your mobile phone and on your personal computer. You just have to go through a few short steps, which we will mention below.
Steps to Change WhatsApp Profile Picture on Mobile
Step 1
First, open WhatsApp or WhatsApp Business. Click on the three dots in the corner of the page ( ).
Step 2
Select "settings".
Step 3
Click on the profile picture.
Step 4
Tap the camera icon in the corner of the image.
Step 5
If you want to put one of the photos in your phone's photo gallery as your WhatsApp profile photo, select Gallery. If you want to take a photo at the same time and put it in your WhatsApp profile picture, select Camera.
Step 6
Select the desired image from the gallery. Adjust the frame and size using the lines on the photo and click Done.
Now you may be wondering how to change WhatsApp profile picture on your computer system. To change WhatsApp Web profile picture, follow the same steps in WhatsApp Web Just note that after clicking on the profile photo, select Upload photo.
For more information on WhatsApp Web, see How to Use WhatsApp Web
Hide WhatsApp Profile Picture
Anyone who has your number saved in their contact list can view, take a screenshot of your WhatsApp profile, or save it. Sometimes your WhatsApp may be used for both personal and professional activities. That's why this program has the ability to hide your profile picture and show it only to certain people.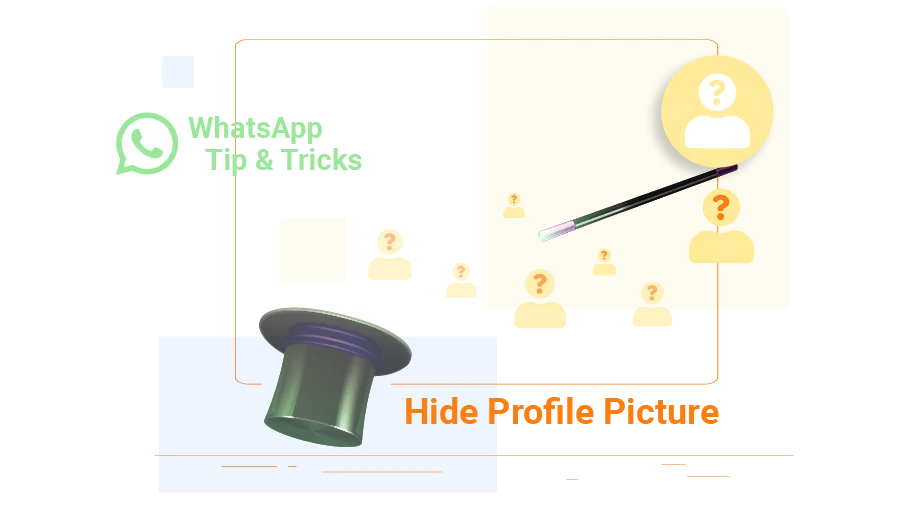 For more information on this, see How to Hide WhatsApp Profile Picture
Recover Deleted WhatsApp Profile Picture
On Android phones, all WhatsApp photos are automatically saved in the internal storage, and if there is no internal storage, they are saved on the memory card. If you find the photo you deleted in this file, you can use it again, otherwise your photo is completely lost and you have to recover the mobile memory from which you selected the image.
Save Other Users' WhatsApp Profile Pictures
Sometimes you may like one of your contact's profile photo and want to save it in person. In previous versions of WhatsApp, it was very easy, and just by clicking on the image and selecting "Share", you could save it in your phone gallery, but this is no longer possible in WhatsApp application. But there is a very easy way in WhatsApp web that we will mention below.
Step 1
Run

WhatsApp Web

on your personal computer.
Step 2
Open the chat page of the contact whose profile picture you want to download and save.
Step 3
Click on the profile picture of the desired contact at the top of the chat page.
Step 4
This will bring up that contact's profile page on the right side of WhatsApp Web. Right-click on the contact's profile picture and select

"Save image".
Step 5
In the window that opens, you can change the place where you want to save the image.
In this article, it has been explained what picture is suitable to be put as your profile picture, how you can change your WhatsApp profile picture, and how you save the profile picture of other WhatsApp users. We hope you will find this article useful and practical.