How to Reduce WhatsApp Data Usage
Nowadays, since many of our daily tasks depend on the Internet, it is natural to look for a way to reduce Internet costs by reducing data consumption. WhatsApp is a popular messenger that many people use these days for personal and business communication, and interestingly, with simple tricks, the data consumed by WhatsApp can be significantly reduced.
If you are a constant user of WhatsApp, looking for ways to reduce your internet usage costs, join us in this article.
Tricks to Reduce WhatsApp Data Usage
In this article, we want to introduce 3 practical and useful solutions, using which you can significantly reduce the amount of data used in your WhatsApp.
Solution 1) Reduce WhatsApp Voice and Video Calls Data Usage
One of the attractions of WhatsApp messengers is the ability to make voice and video calls. A huge part of WhatsApp data usage is due to WhatsApp voice and video calls. But the good news is that there is a way to reduce the data usage when using mobile data in voice and video calls.
To use this feature, just follow the steps below.
Step 1
Open WhatsApp and enter Settings from the top three points of the page.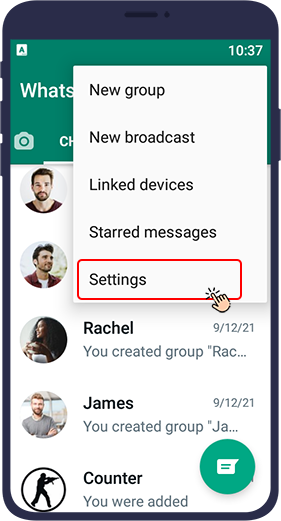 Step 2
Then open Strorage and Data.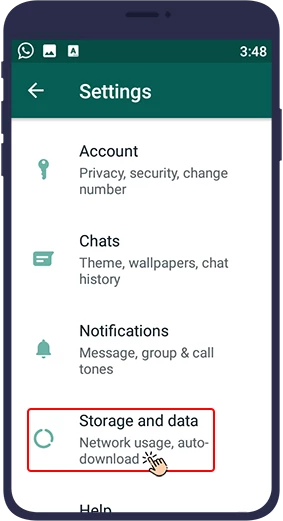 Step 3
In this section, you must activate the Use less data button. Turning on this option means that WhatsApp will consume less of your mobile data internet when making voice and video calls.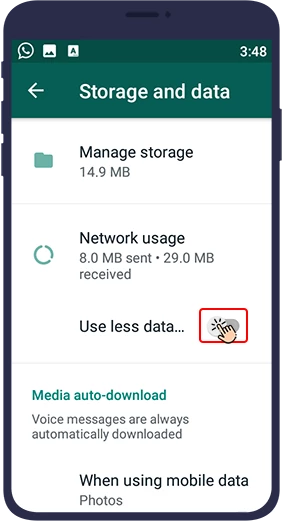 Solution 2) Exclude Videos from WhatsApp Backup
You know that WhatsApp uses the Internet to back up your information on WhatsApp. We've covered this in detail in the article "How to Backup WhatsApp Information", but here we are going to point out some of the things that can be done when backing up WhatsApp to reduce your Internet usage.
When getting a backup of WhatsApp, all the information in your WhatsApp chats, including video, photos, audio and text files, etc. is stored. You must know that video files are larger than the rest and saving them in backup uses more data.
You can reduce your WhatsApp backup data usage by disabling backup of video files in your WhatsApp chat. Just follow the steps below.
Step 1
Open WhatsApp and then go to settings from the three dots at the top right of the page.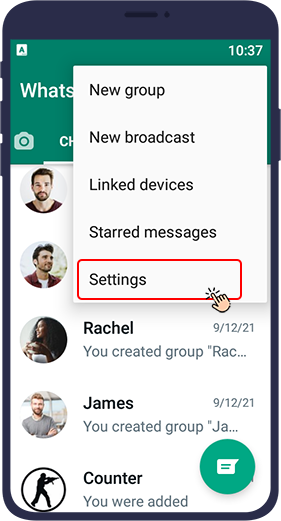 Step 2
Open the chats tab.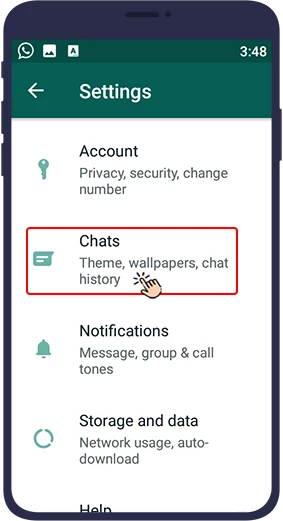 Step 3
Enter Chat Backup.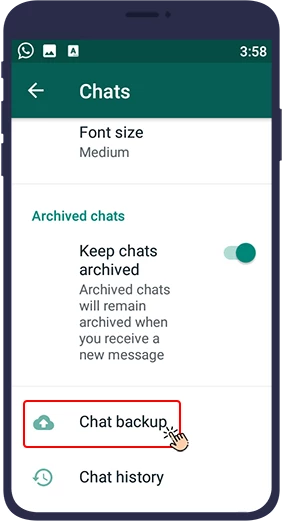 Step 4
This is the WhatsApp bakup settings page. The last option is Include videos. By disabling this option, the videos in your WhatsApp chat will not be backed up, and as a result, the data used to back up WhatsApp on your phone will be reduced.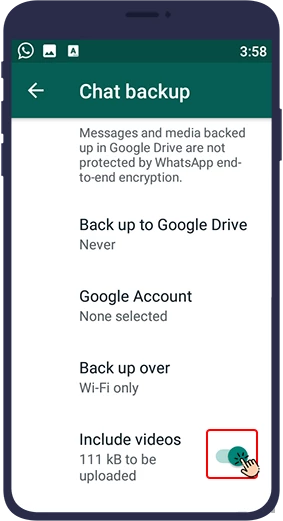 Solution 3) Disable Photos and Videos Automatic Download
You must know that photos and videos will be downloaded automatically after being received on WhatsApp. In fact, this is the default WhatsApp settings. This is a problem due to the unwanted occupation of a large space of your phone memory and also the high consumption of the Internet data. It is better to disable automatic download of images and videos by changing WhatsApp settings.
To do this, just follow the steps below.
Step 1
Log in to WhatsApp and open settings from the top three right of the page.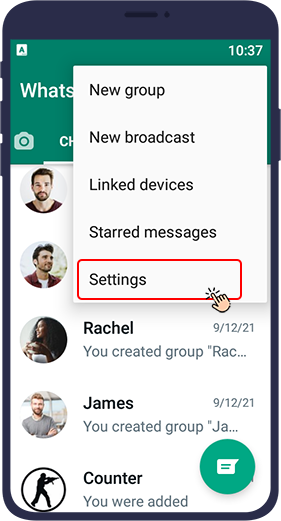 Step 2
Then select Storage & Data.
Step 3
In the media auto-download section, you will see three options.
1. When using mobile data
2. When connected to Wi-Fi.
3. When roaming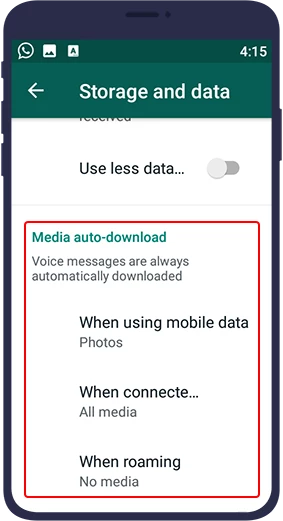 Step 4
From the first option, you can disable automatic download when using mobile data. Just tap this option and in the window that appears, check the box next to the ones you do not want to download automatically: Photos, audio files, videos, and Documents.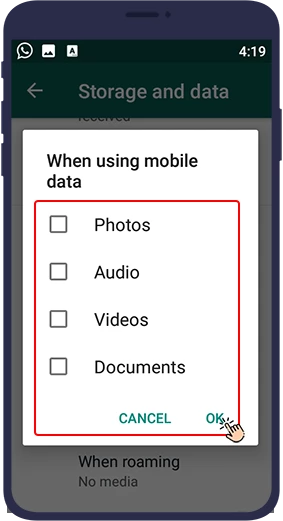 Step 5
The second option is to disable the automatic download of photos, videos, audio files and documents when using WiFi. Just uncheck any of the options to disable auto-download when using Wi-Fi.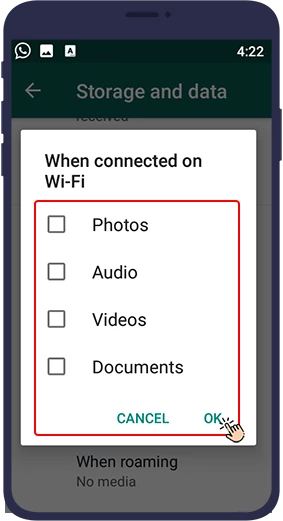 Important note
It should be noted that voice messages are always downloaded automatically in WhatsApp and you can not change the settings to stop the automatic download of voice messages in your WhatsApp chat.
In this article, we have taught you 3 practical ways to reduce the data usage of WhatsApp. We hope this article will be helpful to you and help you reduce your internet costs.