WhatsApp Security; Everything You Need to Know About It!
In this article, we will see how secure WhatsApp is and if there is any way for users to increase the security of their WhatsApp account? Stay tuned…
How secure is WhatsApp compared to other social networks?
At first place, you should know that WhatsApp, unlike Telegram, does not have a data storage server! This means that the chats and files you exchange in this messenger would not be stored anywhere except on your phone or computer, and as a result, hackers cannot access your information by hacking WhatsApp servers. They only must hack your phone or computer in a certain way until they can get access to your chats. Also an interesting point about hacks that are done as "hacking while communicating" or so-called "on air hack" is that all WhatsApp chats and voice and video calls use two-way encryption algorithms, which means this information is not visible without a cryptographic key. This two-way encryption model is called End-to-End Encryption.
In general, after the spread of WhatsApp messenger around the world and transferring to Facebook, this messenger has grown significantly in terms of security and today it is known as one of the safest messengers in the world.
Of course, in security issues, we cannot speak with 100% certainty, because it has happened many times that the applications of large companies came to market place claiming to be safe, but they have been attacked by professional hackers and in absolute disbelief way, all their users' information has fallen into hackers' hand.
Altogether, hacking the security items mentioned in WhatsApp is not that much easy, and in this regard, the WhatsApp application can be called a world-class application on global scale.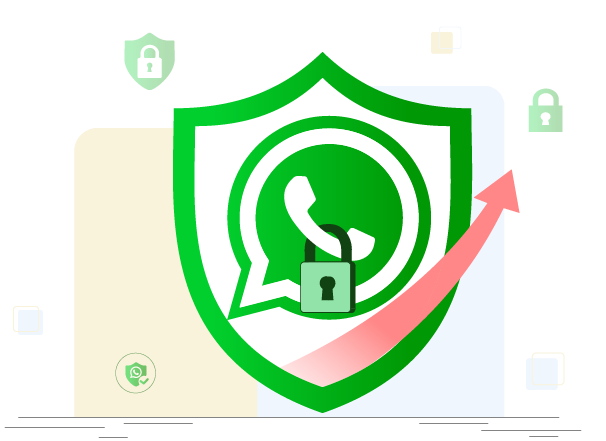 Solutions for Increasing the Security of WhatsApp
WhatsApp uses an internal encryption system for users' security that cannot be disabled. The existence of such system will convince you that your message will only be read by the person to whom you have sent the message. By the way, to increase the security of WhatsApp, you can use different methods, all of which we will discuss in the following.
Encryption of Important Conversations in WhatsApp
You can encrypt your important conversations in WhatsApp by following some steps. By doing so, even if your WhatsApp is running on multiple devices, that conversation will only appear on the device whose WhatsApp is encrypted, and other devices will not have access to the encrypted conversation even though they are connected to that WhatsApp account. Using encryption of important conversations helps you to have a secure and confidential conversation with the target audience so that no third party can access it.
How to Encrypt Important Conversations in WhatsApp
If you want to encrypt your important conversations in WhatsApp, you only need to go through following steps.
Step 1
In this method, first create a conversation with the intended person, a conversation window will open.
Step 2
Click on the person's name.
Step 3
Select Encryption.
Step 4
You will then see a QR code and also a 60-digit code. Ask the target contact to go through the same steps so that you can match this 60-digit code and confirm the code numbers by comparing them manually. You can also use the Scan Code button to scan each other's code to ensure the security of the conversation. Do not forget that it is better to check these two codes in another messenger
Turning on WhatsApp Security Notifications
Whenever you want to open a unique conversation on WhatsApp from a new device, a new security code is generated for both devices. By turning on security notifications (show security notifications), WhatsApp will notify you whenever a new security code is created for a specific conversation on WhatsApp.
How to Activate WhatsApp Security Notifications
Follow the steps below to enable WhatsApp security notifications.
Step 1
First, open the WhatsApp app and click on the three dots ( ) on the top right of the screen.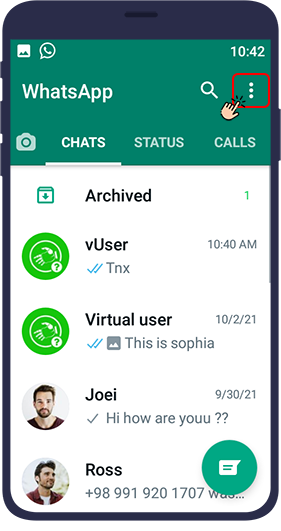 Step 2
Select the settings option.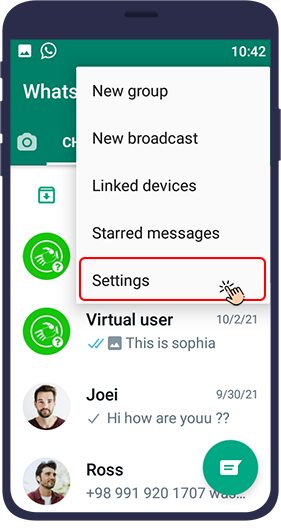 Step 3
Click on the "account" option.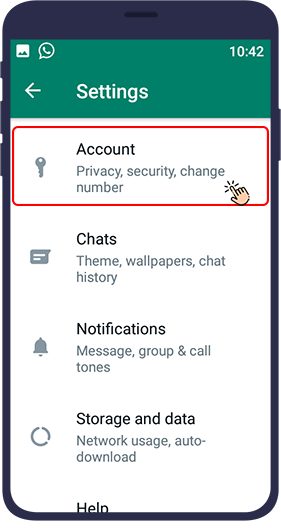 Step 4
Select "security" option.
Step 5
Click on "show security notifications" option and set the intended button to green to send you a warning message when a security issue occurs.
Enabling Two-step Verification in WhatsApp
One of the new features which has been added to WhatsApp to increase security is that, you can enable two-step verification for your messenger and increase your account security rate to a considerable extent. By activating 2-step verification, no user will be able to easily access your account. When you enable 2-step verification for your WhatsApp account, passing the original code (the security code that would be sent to your mobile by SMS when logging in to your WhatsApp account) will not be enough to log in to WhatsApp account and you will need to enter another 6-digit code (that you determined when activating two-step verification) till WhatsApp allows you to access your account. Thus, no one can log in to this WhatsApp account until he/she knows the 6-digit code.
How to Enable WhatsApp 2-step Verification
Follow the steps below to enable 2-step verification for more security.
Step 1
First, open the WhatsApp application and click on the three dots ( ) on the top right of the screen.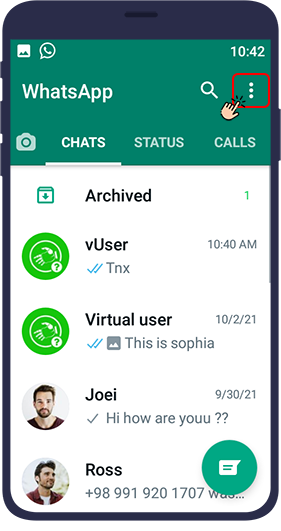 Step 2
Select "Settings".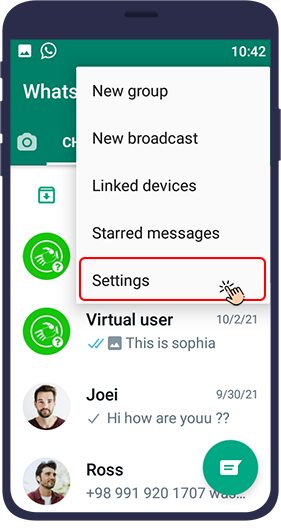 Step 3
Select the "Account".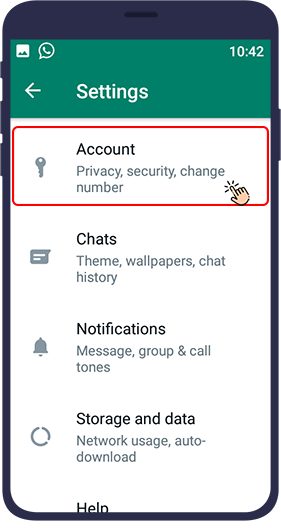 Step 4
Touch two-step verification.
Step 5
Select "enable" and create a 6-digit code (this 6-digit code is your second PIN to log in to your WhatsApp account).
Step 6
Also note that, first add your email in this section and then touch "Next". Entering the email address is important because when you forget the second PIN, you can try to recover the PIN via email, otherwise you will lose access to your WhatsApp account forever.
Step 7
After completing the steps, a message will be sent to you with the content of "The two-step verification is enabled". This message actually indicates that 2-step verification is enabled, after which you must press Done
Using Locker Applications
One of the drawbacks of WhatsApp is that you cannot use the password to lock WhatsApp. For this purpose, WhatsApp advises its users to use a third-party locker application. Examples of this application include Locker for Whats Chat App . Note that it is not possible to lock WhatsApp through third-party applications on iPhones . As a result, it is best to lock the entire phone by logging in with your fingerprint, face, pattern or password to ensure your WhatsApp security.
Enable Fingerprint Sensor to Log into WhatsApp
One of the security features that WhatsApp has recently added to this application is the ability to log in to the WhatsApp account with a fingerprint. Thus, if this option is enabled, after opening the application, the only way for logging in to the account to work with and access conversations, is to place the preset owner's finger on the fingerprint sensor of that mobile phone . You can imagine how much this option improves the security of your WhatsApp account.
How to Enable Fingerprint in WhatsApp
Step 1
Open WhatsApp and click on the dot ( ) at the top right of the screen.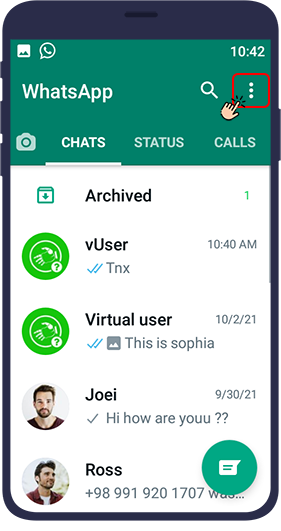 Step 2
Enter the Settings .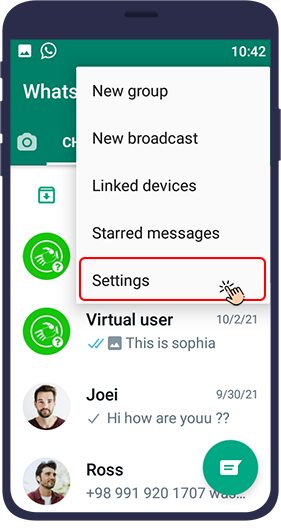 Step 3
Enter the Account..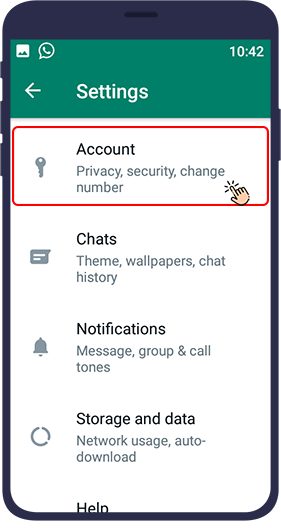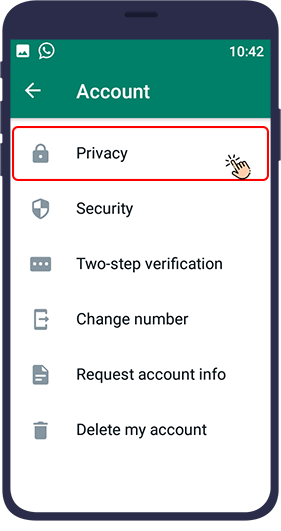 Step 5
Click on Fingerprint Lock.
Step 6
In the page that openes, turn on the "Unlock with Fingerprint" option.
Step 7
In the next section of this page, you can specify after how long of being unused, your WhatsApp account gets locked automatically. There are options like " Immediately ", " After 1 minute " and " After 30 minutes " from whih you can choose.
Step 8
If you want the content of your messages, before getting opened and read, be shown on your mobile as notification, you only need to turn on " Show content in notification ".
After finishing these steps, from now on, every time you want to log in to your WhatsApp account, you have to put your finger on the phone sensor to authenticate and enable accessing to your WhatsApp account.
Download WhatsApp from the Official Sources
Download and install the WhatsApp application from the official portals such as the WhatsApp website or Google Play. We also recommend that you do not use unofficial versions of WhatsApp at all . These versions are not secure at all and there is no guarantee for the security of your information while using such applications.
Protect Your Privacy in WhatsApp
WhatsApp provides good controlling features to keep users safe, in the way that you can apply the settings you want by entering the "Settings" section.
Step 1
Go to your WhatsApp app and click on the ( ) icon at the top right of the screen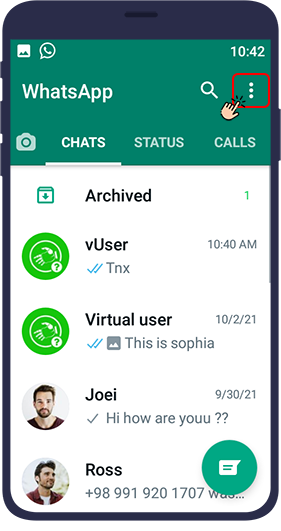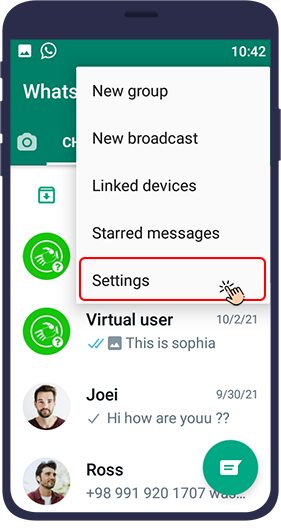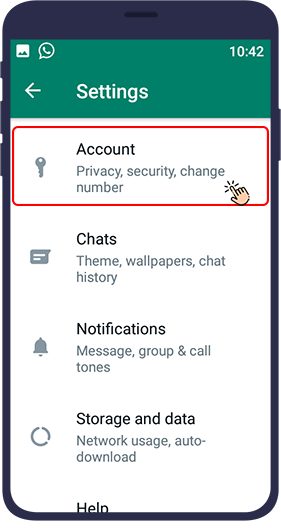 Step 4
Press Privacy and use the features of this section to protect your privacy. By entering this section, you will specify who can view the time of your last visit, profile picture, WhatsApp stories, bio, etc.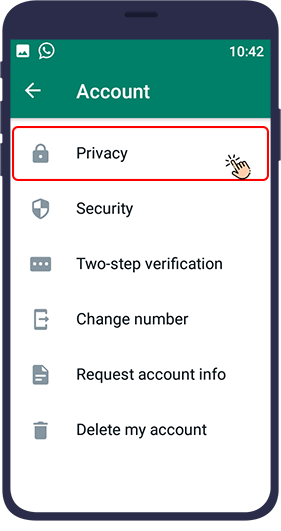 For example, in this section you can specify the users who are allowed to view your profile picture. Refer to the article we have prepared in this field to find out how to make these settings.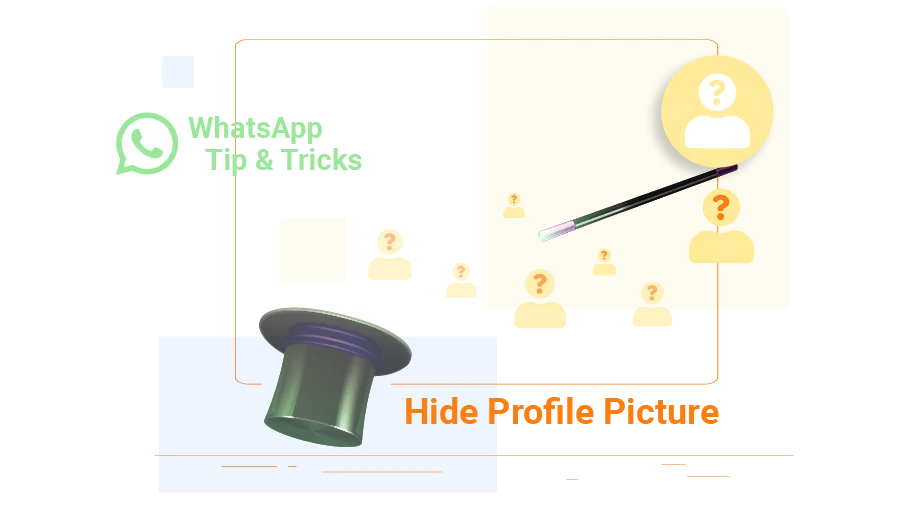 How to Hide WhatsApp Profile Picture www.v-user.com/en/blog/how-to-hide-whatsapp-profile-picture
You can specify who can see the last time you were online on WhatsApp. To find out how to do this, refer to the article we have prepared in this regard.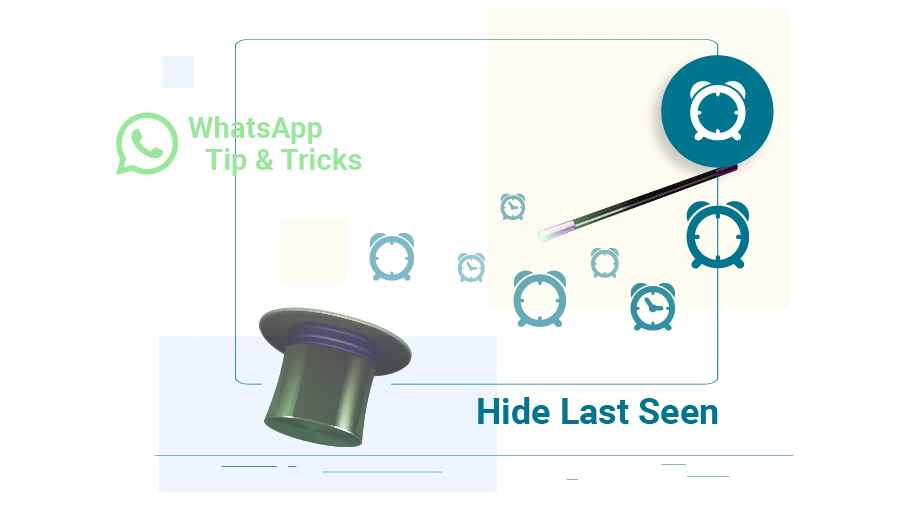 How to Hide Your "Last Seen" Status on WhatsApp www.v-user.com/en/blog/how-to-hide-your-last-seen-status-on-whatsapp
Avoid Suspicious Messages
WhatsApp does not send you any messages neither through the application, nor through email. It will only send you message if you contact the company support department; therefor any suspicious messages from WhatsApp is a scam for you.
Do Not Share Personal Information
You should not share your personal and private information not only in WhatsApp, but also in any other social network.
Block Annoying Users
There might be people who annoy you by sending messages in WhatsApp, or you may not want certain people to message you on WhatsApp. You can block these people's WhatsApp accounts to keep them from being in touch with you on WhatsApp forever.
To find out how to block people in WhatsApp, refer to the article below.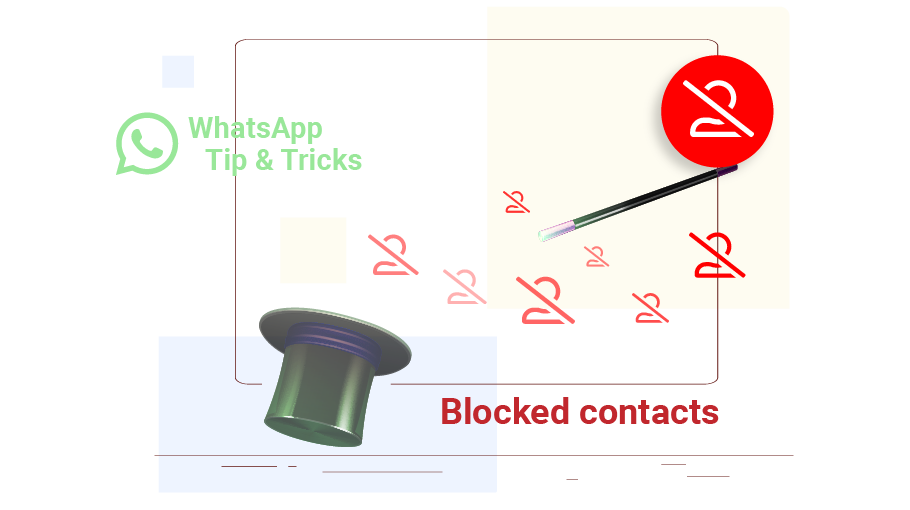 How to block a contact on WhatsApp www.v-user.com/en/blog/how-to-block-a-contact-in-whatsapp
Concluding Remarks
Note that security is a very complicated issue, because no matter how secure a platform is, it still has security vulnerabilities; But it is obvious that WhatsApp is known as the most secure messenger in the world, yet you can use various tools and features to improve its security. If you have any questions, comments or suggestions, please contact us through the comments section.