The Best Methods of Advertising & Marketing in Telegram for 2022
If you are planning to advertise your business through Telegram, but you do not know how to advertise and market there, join us in this article, because we are presenting whatever you need to know about all the various methods of advertising and marketing in Telegram to help you make the final decision. Reading this article, you will be able to wisely choose your desired advertising method in Telegram and witness the highest ROI (return on investment) with the lowest cost.
Types of Advertising & Marketing Methods in Telegram
You may think that there are many different ways to advertise in Telegram, but Telegram advertising methods are very limited. In fact, there are only 3 methods for advertising and marketing in Telegram.
Advertise & market by sending direct messages
Advertise & market in Telegram groups
Advertising & market in Telegram channels
In the following, we will explain each of these methods. Stay with us...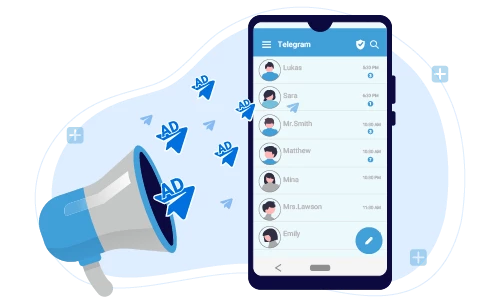 Advertising in Telegram by Sending Direct Messages
As you may have guessed, the best way to advertise on Telegram is to send direct messages to people. This way, you are sure that the advertising message you send is 100% read, attracts the audience's attention because receiving a direct message always arouses the people's curiosity, making them read the received message and see who has sent it. Therefore, anyone who receives a direct message on Telegram opens and reads it for sure! As a result, it is obvious that if you manage to send mass direct messages to the strangers in Telegram, you will experience an effective and productive advertising campaign.
But the problem is that it is not easy to send a large number of direct messages to unknown people in Telegram (and by unknown people, we mean the ones who have not saved your number in their phone or have not chatted with you in Telegram before) and if you have decided to advertise your own business this way, you need to know that you cannot easily send as many direct messages to strangers as you want with your Telegram account, because Telegram, determined to hold its monopoly on this platform, tries to keep its users from advertising freely in this platform by imposing restrictive rules.
However, we do not intend to explain the policies of Telegram here, but we want to introduce you to the limitations of Telegram and offer solutions so that despite the existence of these restrictions, you will be able to advertise in Telegram to an extent by sending bulk direct messages.
The most important limitations that makes it difficult for you to send mass advertising direct messages are:
Inability to send group direct messages in the Telegram application
The existence of a daily limit on the number of direct messages to anonymous people in Telegram
In the following, full explanation on each of these limits is offered.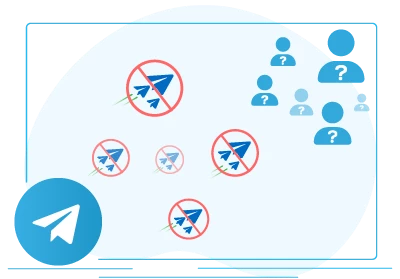 The First Limitation: Inability to Send Group Direct Messages in Telegram
If we want to send a message to an unknown person in Telegram, we must at in one of these two ways: 1. Either we have to search for their ID in Telegram and open the chat page 2. Or we have to save their mobile number in our phone and then open their chat page from the Telegram contacts; so we can send them the message we want.
Now, if we have a large list of Telegram IDs or mobile numbers of unknown people and we want to send our advertising message to these people, we have no choice but to repeat this process for each of the people on the list because it is impossible to send a message to several unknown people at once in Telegram. Obviously, this process is very time consuming, tedious and almost impossible to do manually for a large number of people, and it becomes even more difficult if our message includes a photo or video.
The Second Limitation: Daily Limit on the Number of Direct Messages to Anonymous People in the Telegram
Sending direct messages to acquaintances includes no limits ; In fact, Telegram allows its users to send any number of direct messages to acquaintances per day (Acquaintances refers to the peoplewho have already chatted with you on Telegram or saved your number on their phone). But advertising by sending mass messages means introducing our products and services to unknown people; This is not easy in Telegram because Telegram imposes restrictions on sending direct messages to anonymous people, meaning that each Telegram account (line) cannot send messages to more than 50 anonymous people a day.
Obviously, this number of daily messages is so small that it will not have any significant impact on the sales and revenue growth. Despite such restrictions from Telegram, the only possible way is to use multiple lines to send messages to people. For example, by providing 10 lines, we can send up to 500 direct messages to people per day. But the problem is that managing several lines and sending mass direct messages using these lines, like the previous scenario, is not an easy task at all.
How to Send a Large Number of Messages in the Telegram Despite These Restrictions?
Since Telegram has no feature for sending group and simultaneous messages to anonymous people, it is almost impossible for us to send mass messages manually in this platform. Therefore, the only solution will be to use a software program that does the job automatically; This means that it can automatically save the mobile number of the desired person in our Telegram, or search for the person's ID, enter their Telegram chat page and send our message, which may also include photos and videos.
Also about daily limits, Telegram requires us to provide multiple lines for advertising and to increase the daily number of advertising messages that we send by sending messages using multiple lines, which is also very difficult and leads us to use an automated software program; the recommended software must be able to control multiple introduced lines and send less than 50 messages with each line and automatically switch between lines to send direct messages in bulk.
Such software is commonly known as "Telegram bulk message sender software", one of the best types of which will be introduced here.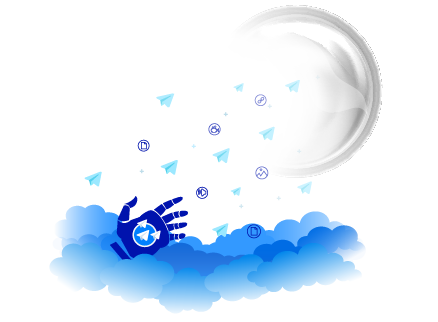 Introducing an Automated Software Program for Telegram Bulk Message Sender
One of the best software programs available for advertising and marketing in Telegram is "Virtual User Telegram Bulk Message Sender Bot Package". This software has many features, including the ones that have been mentioned for a good automated Telegram bulk messaging software program; i.e., saving the mobile numbers, sending messages to the numbers, sending a specific number of messages per line and switching between lines automatically.
This software package is installed on your Windows system and is also very easy to use. All you need to do is to:
Prepare a number of Telegram lines (virtual or real) and introduce them to the bot.
Provide the bot with a message and a CSV list of IDs or mobile numbers of the people to whom you want to send messages
As easy as this!
After introducing the lines and setting the text and the list of IDs (or numbers), you run the bot and the it will do the rest for you automatically. As soon as it runs, the bot opens your line in Telegram, starts from the first mobile number in the list, adds it to your Telegram contacts, enters its chat page, sends your desired message along with your desired photos or videos, etc. then the bot goes to the next number on the list and repeats the process until it needs to change the line of the sender of the message (for example, the bot sends 50 with the first line and then it is the time to keep sending using the next line). At this time, the bot closes the first line and opens another line, and continues to send messages to other people in the contact list in the same way with the next lines.
This way, by using this bot, you will not only easily cross the limitations of Telegram, but you will also send a large number of advertising messages to people in Telegram without spending much time and energy.
Moreover, using this software package has another important advantage, and that is the ability to extract the members' IDs from Telegram groups. With this feature of the bot, you can easily extract your target contacts from different groups in Telegram and continuously prepare an ID database for marketing and advertising.
Since this is a general article on advertising and marketing methods in Telegram, we will not go into more detail about this software. If you are interested in using this software, for more information about the various features and details of this software package, you can visit the webpage of this product on the Virtual User website and purchase it through this site.
Advertise & Market in Telegram Groups
Another effective method of advertising on Telegram is sending advertising messages to Telegram groups.
A Telegram group is a place where people interested in a particular field usually gather, express their ideas, and send messages; So if you find a group or groups that are related to your field of business and send your advertising message in those groups, you can expose your products or services to a large number of people who are all interested in this field or need your products and services, or they are somehow related to this field. This way, by sending advertising messages to these Telegram groups, you will expose yourself to your target audience and rapidly increase the chance of your products selling.
Having said that, group advertising will not give you the desired result if it is not done properly, because there are usually many people in the groups who often do not face any restrictions on sending messages in groups, so usually a huge number of messages would be sent in the group any moment, and your promotional messages are likely to get lost and be ignored among other messages sent to the group by other members and not all members of the group would see it and your ads would not get that much attention.
As a result, a question arises, what is the correct method of advertising in Telegram groups and how can you have an effective advertisement in Telegram groups?
Our Recommended Method to Advertise in Telegram groups
For advertising in Telegram groups, we recommend that you use automated tools; because effective advertising in Telegram groups requires scheduling, continuity in sending advertisements, and sending multiple messages in different groups, which can be very time-consuming and tedious task.
In fact, if you want to increase the chances of your advertisement being seen, you should send your messages at certain times of the day (when you think members are more active and online) and repeat it regularly and every few hours; so that you can attract more attention and at the same time, more people to your ads.
However, sending these messages regularly and multiple times a day is a very time-consuming and tedious task, especially if you want to send your promotional messages to several Telegram groups. It will be almost impossible to repeat this process manually. For this reason, our recommended option for advertising in Telegram groups is to use an automated tool that can do the task automatically for you.
In the following, we will fully introduce an appropriate tool for doing this.
Introducing A Tool for Sending Advertising Messages in Telegram Groups
The Send Bulk Messages to Groups bot, which is one of the bots that exist in the v-User Telegram Bulk Message Sender Bot package, is a windows-based software program that has all the features of an appropriate tool for advertising in Telegram groups.
The bot can automatically send your messages to your intended Telegram groups. All you have to do for launching this bot is to enter the text of the message and the link of your intended groups in the setting Excel file of the bot and then run the bot. Just this!
The bot launches the Telegram program and opens your Telegram account, then searches for the group link you specified in the Excel file and finds the group, enters it and sends your intended message to that group, and then goes to the second group that you enter in the Excel list and continues this process for all the groups that you have specified in the Excel file.
In fact, using this bot, you can send advertising messages to all the groups you are interested in without spending much energy and time, and you are almost sure that your messages will attract the attention of the group members and they will be read.