Telegram Auto message sender to usernames Bot
The "Send Message to Telegram IDs" bot is a part of the Virtual-User Telegram Bulk Message Sender Bot Package and as its name implies, it is a robotic tool that can automatically send your messages directly to the ID of the people you want on Telegram.
In the following, we will see what the use of Message Telegram IDs Bot is and how it works. Join us in this article ...
What is the use of Message Telegram IDs Bot?
As you know, one of the most effective ways to advertise in Telegram is to send direct messages to different people, because by sending direct messages, you are sure that your message will be read. Because receiving a direct message arouses people's curiosity, it is so unlikely that someone receives a direct message in Telegram but they do not open or read it. Therefore, it is clear that if you manage to send a lot of advertising direct messages to strangers in Telegram, you will experience a highly efficient advertising campaign.
But is this simply possible? Can we send a promotional message to a large number of strangers with our one Telegram account without any problems?
To answer these questions, you need to know the Telegram limitations in this area. Stay with us...
Telegram Restrictions on Sending Bulk Direct Messages to IDs
The problem is that sending a large number of direct messages to Telegram IDs is simply not possible; This means that you cannot send as many messages as you want to different people in Telegram with the same Telegram account, because Telegram tries to hold a monopoly on advertising in this platform by applying restrictive rules.
It is good to know that to send a direct message in Telegram, people are divided into 2 categories.
Familiar/mutual people: People who have saved your number or chatted with you at least once in Telegram.
Unknown people (strangers): People who have not chatted with you before and have not saved your number are considered strangers.
Telegram treats these two groups of people differently (especially about the restriction on sending them direct messages), which we will explain in the following.
The most important of these restrictions that prevent Telegram users from sending direct messages to the anonymous people freely and unlimitedly:
Inability to send group messages in the Telegram application
Daily limit on the allowed number of direct messages to anonymous people in Telegram
In the following, we will explain how these restrictions prevent us from free advertising on Telegram.
The first limitation: No feature for group messaging the anonymous in the Telegram application
In order to send a message to a stranger's ID in Telegram, we must first search for his ID in Telegram, then enter his personal chat page and send our message to him. Now, if we want to send a message to a large list of different people's IDs in Telegram, there is no other way but to search for each of these IDs in Telegram, enter the chat page of each of them, insert our message on this page and send it to each of these people separately, because unfortunately Telegram has not implemented any features for sending group messages to anonymous people in its application. Therefore, it is obvious that advertising in Telegram by sending a large number of messages, if done manually, is a repititive, time-consuming and tedious task, and that is almost not practical at all.
The second limitation: Daily limit on the allowed number of messages to anonymous people
The second limitation: Daily limit on the allowed number of messages to anonymous people
We do not face any restrictions on sending messages to mutual people in Telegram; This means that we are able to send as many messages as we want to familiar people every day with the same Telegram line without our account being blocked. As you can guess, sending a promotional message to these people does not have much of an advertising effect because these people are already familiar with our business and will not be a new customer for us, and sending a message to these people will not affect our sales and revenue.
As a result, advertising in Telegram is only possible and effective by sending messages to unknown people. But we are not very open to sending messages to anonymous people because Telegram allows each account to send messages to a maximum of 50 anonymous people per day.
You know better that advertising is effective when it is done on a large scale, while Telegram does not allow any account to send in bulk. Therefore, it seems that the only solution is to provide several SIMs (virtual or physical), create a Telegram account with them, and send advertising messages with these accounts. But managing to send large numbers of messages using multiple Telegram accounts is also very difficult and tedious.
Given the limitations we have described in this section, how can I advertise on Telegram by sending a message to the anonymous IDs? What is the solution?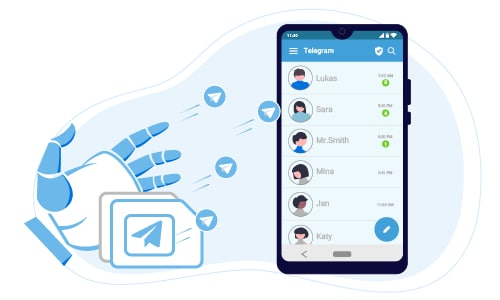 The Need for Using an Automated Bulk Messaging Software in Telegram
Given the limitations mentioned earlier, to send advertisements in Telegram freely, we will definitely need a software program that can automatically go through the whole process of sending bulk messages to the people's IDs; This means that it can automatically search for the IDs of the target audience in our Telegram, enter their chat page and send the desired message to each of them separately. Also, this software should be able to work with several Telegram lines(accounts) to close one line if it approaches the daily message limit and continue sending automatically with the second line (next line) that you have introduced to the software.
This is where the Message Telegram IDs Bot that we introduced to you at the beginning of this article comes in handy and helps you because it has all the necessary features that we have discussed here and even more features for sending ads in Telegram.
In the following, we will introduce you to how this robot works.
How the Message Telegram IDs bot works
In this section, we are not going to teach you how to use the bot, but we just want to show you how the bot works when you run "Message Telegram IDs Bot".
However, setting up the bot is very easy and does not require much explanation. Training on how to install and use the software is also included as in a video file inside the package, which you can refer to. To use this bot, all you have to do is open the "Message Telegram IDs Bot" inside the "Virtual-User Telegram Bulk Message Sender Bot Package" that you purchase from our website. You enter the settings in the Excel file and run the bot.
You no longer have to do anything and everything is done automatically by the bot.
After the bot enters your Telegram account, it starts from the first ID in the Excel list and opens the chat page of this number and sends the message you want to it, and then goes to the second ID in the Excel list. After sending a certain number of messages (the same number that you ordered to the bot), it closes the first line and goes to the next line and continues the process of sending messages to the IDs with the next line. This process will continue until the end of the list of IDs and with all the lines that you have provided to the bot.
It is also good to know that if some of the IDs that you have entered in the list do not have a Telegram account or have deleted their Telegram account, the bot will keep working by sending messages to the other IDs in the list.
You may be wondering how you can provide a list of Telegram IDs of your target audience. One of the best ways to create this ID list is to extract the members' IDs from Telegram groups. We have designed a bot for this purpose that can quickly extract the IDs of all members of the Telegram groups you want and providethem to you in an Excel file. In the article "How to Extract IDs from Telegram Groups", we have provided a complete and comprehensive description about this bot, which you can refer to for more information.
How can I get the "Message Telegram IDs Bot"?
The Virtual-User Message Telegram IDs Bot, as we mentioned at the beginning of the article, is part of the Virtual-User Telegram Bulk Message Sender Bot Package, and to prepare it, you must purchase the whole package. You can also benefit from the other bots available in this package.